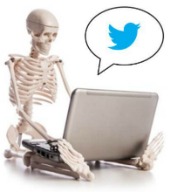 Just in case the zombie apocalypse makes the scenario viable, post-mortem, would you like your inert corpse to be propped up in front of a keyboard so you can keep tweeting?
Happily, things don't have to get fetid.
To enable a continuous warbling in spite of the hindrance of rigor mortis, we will soon have LivesOn – a service that promises that after your heart stops beating, you can keep tweeting.
According to The Telegraph's Theo Merz – one of only about 20 lucky stiffs who got in on the trial – the tester version of LivesOn was made available during the week of 12 August, ahead of a public roll-out scheduled for September.
Now, Merz is getting to put the service's algorithms through its paces as it tries to mirror his twitter style.
The results are pleasingly and, aptly, brain-dead.
Dave Bedwood, a partner at Lean Mean Fighting Machine, the ad agency that conceived of LivesOn, talked about the results as if they were more like something you'd get from a half-dead brain – say, a zombie brain.
It is, in other words, a work in progress, he told Merz:
"Sometimes they are really funny, sometimes they are gobbledygook and sometimes they do sound exactly like you. I tweet absolute nonsense anyway so you can't really tell the difference."
Here are some sample tweets that the LivesOn platform churned out for Merz at the rate of about one per hour, with a break between 10pm and 7am, assumably for his replica brain to get some shut-eye:
14 August, 10.10: forever 2007 in my russian degree when i applied last year, maybe things have taken a turn for the urban literati
14 August, 17.21: also it sounds like absolute turd, we'll write you a nice monologue when you get down to london in a buddhist temple
15 August, 18.01pm: some great yr 9 textbook convos: "the most popular dance move since the dougie"
The service has algorithms that will splice and dice the tweets from your live self, learn as it goes along how to sound something like pre-mortem you, and then take over, one assumes, when the zombie apocalypse renders your fingers a bit spongy.
The developers told Merz that 12,000 people have already asked to be alerted when LivesOn is released publicly.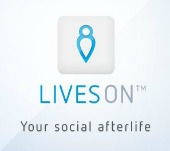 I am now one of those pre-dead people.
In an interview with Playboy that Lean Mean Fighting Machine reposted here, one of the co-founders said that LivesOn is an R&D project with Queen Mary University in London.
The project's first goal is to provide a service that can find links, information, and clips that a given user will like, he said – much like having an online twin.
Then, as the artificial intelligence learns a user's ways, the possibility exists that the service could keep tweeting for a user after that user's pushing up daisies – but only if an executor to the LivesOn account allows it.
It's hard to believe, but some find the whole prospect rather morbid, Bedwood told The Guardian in February, when the media first got wind of it:
"It offends some, and delights others. Imagine if people started to see it as a legitimate but small way to live on. Cryogenics costs a fortune; this is free and I'd bet it will work better than a frozen head."
2013 must be the year for Internet Nation to mull over the digital afterlife.
Back in April, Google launched a tool that lets users plan what will happen to their private data after they die.
One choice Google offered through the tool, Inactive Account Manager, is to have data deleted after periods of three, six, nine or 12 months of inactivity.
Another option is to pass on data from some or all of its services to your designated beneficiaries.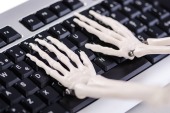 For the sake of your heirs, of course, people need to be able to get hold of your data, including financial assets in buyer/seller accounts on eBay, Amazon, PayPal, Yahoo! Stores or the like; credits in stores such as iTunes; business invoices and intellectual property shared through services such as Dropbox or ShareFile, et al.; and online bank accounts.
Now that LivesOn is in its trial phase, though, it seems as though settling affairs in the manner that Google rolled out is rather limiting.
Instead of winding things down, we may be able to just keep prattling on, at least on Twitter.
Unfortunately, Twitter isn't necessarily on board with the idea.
No, LivesOn says, Twitter hasn't actually given its OK to accounts maintained by dead people or their software equivalent.
Therefore, as soon as I get my own LivesOn account, I'll start grooming my tweets to take on more zombie content.
By the time my tweets are post-mortem, LivesOn should be able to mimic me well enough for Twitter to let it slide.
Image of skeleton with laptop and skeleton hands on keyboard courtesy of Shutterstock.