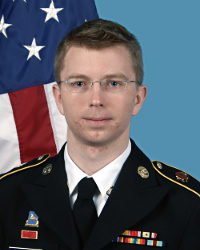 The news is out on Bradley Manning's sentence: 35 years of imprisonment.
Manning, 25, is a US army private who famously (or infamously, according to your point of view) spilled secret US data to WikiLeaks, including a huge tranche of diplomatic cables from the US State Department.
Manning, who was arrested in May 2010, has already served more than three years while awaiting trial and sentencing.
He now nevertheless still faces more than three decades inside, though he may be eligible for parole in one third of that time.
He was recently acquitted of "aiding the enemy," a charge that could have seen him locked up for the rest of his life.
The story of how Manning is said to have exfiltrated decades of State Department communications from a secure area is now legendary.
Apparently, he pretended to bop along to music by Stefani Joanne Angelina Germanotta (better known as Lady Gaga) that was supposedly playing from a rewriteable CD; in fact, he was burning hundreds of thousands of diplomatic cables to the disk instead.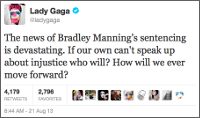 The musical miming supposedly provided visual cover for the fact that the CD light advertised that the device was busy.
Germanotta distributed a message in support of Manning after his sentence hit the news.
You'll find it on her Twitter feed, amongst the ads for her just-released new album.
Julian Assange, the WikiLeaks personality who handled Manning's leaked data, remains a free man, strictly speaking.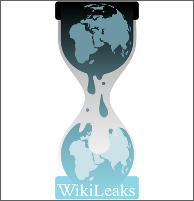 However, Assange is as good as incarcerated: he sought and was granted political asylum in Ecuador, and is currently holed up in a small diplomatic flat in London that is considered Ecuadorean territory.
He is unable to leave the flat because he would be re-arrested in the UK, having jumped bail on an extradition matter related to various sexual assault charges against him in Sweden.
Assange himself has issued a press release calling the sentence "a significant tactical victory for Bradley Manning's defense, campaign team and supporters."
Whether Mr Manning agrees with this assessment is not known.
Quite a story, all told.
How about you?
If you hold sensitive data of any sort, you are obviously at risk of a data leak.
Could a insider in your organisation, no matter how trusted they might be, make off with CD after CD of protectively marked data without any sort of warning being raised?