SophosLabs is at the center of Sophos. It's the place where highly skilled experts in the field work round the clock to build protection from the latest threats.
But who works there?
This week we're talking to Rowland Yu, Threat Researcher from SophosLabs Australia.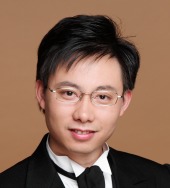 I was born in Shanghai, China. After majoring in computer science at TongJi University, I gained my postgraduate degree at the University of Wollongong, Australia.
During my six years at university, computers became a significant part of my life.
I was attracted to computer security when I studied for my research degree at the University of Wollongong. The title of my thesis was "A X2BT Trusted Reputation System: A Robust Mechanism for P2P Networks."
I joined SophosLabs as a spam analyst in 2006 and then moved into the role of virus threat researcher.
For the last year and a half I have focused on Android research, leading a team responsible for Android malware analysis.
Day-to-day I deal with various kinds of malware and spam threats, providing generic detection and contributing to engine enhancements from a technical analyst perspective. I have also led anti-spam and DLP research in the Australia Labs.
I have had the opportunity to present my research at AVAR and the Sophos Asia partner conference, and I will be presenting at this year's Virus Bulletin conference too.
During my free time, I like reading and watching movies. It's the most relaxing pastime I have. I also like surfing the net and chatting with my friends online when I'm free. For exercise I go bush walking – it's a great way to improve your stamina!
I can't live without my family, my computer and delicious food – I am good at cooking, especially Chinese food.
What future challenges or changes do i see in security in the next couple years? These three things are top of my list:
OS diversification: With the rise of mobile OS, the use of Windows OS is dropping. Companies like Sophos have to fight on several battlefronts.
Network security: As a security vendor providing services to organizations, network security plays as important a role as endpoint.
Cloud: Today, massive data is stored in the cloud so protecting it is a new challenge for us.
My security tips: Make sure you install security software! Protect your privacy – don't use Facebook if you really value it! And stick to trusted sources, such as Google Play, to download your mobile apps.
If I was giving advice to aspiring SophosLabs workers, I'd tell them to go on courses in computer science and build on their knowledge of computer security.
Make sure to read interesting books too! My favourite is Computer Security: Art and Science by Matt Bishop. I also read Microsoft Windows Internals as well as Naked Security (obviously).
Want to know more about SophosLabs?
Read the other articles in this series on Peter Szabo, Numaan Huq, Joanne Garvey and James Wyke who all work at SophosLabs, check out our YouTube playlist, or see more on the Sophos website.