Help better safeguard your Facebook profile with these 5 quick tips.
1. Make sure only your friends can see your profile
You wouldn't just go up to a stranger in the street and start telling them about your life, so why would you want them to see your Facebook profile?
Click on the cog icon that you see in the top right hand corner of the screen. Then click Privacy Settings.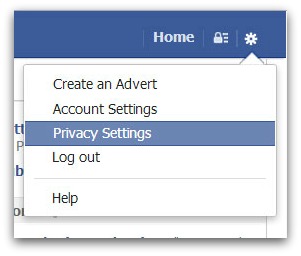 Click Privacy – the third option down in the left hand pane.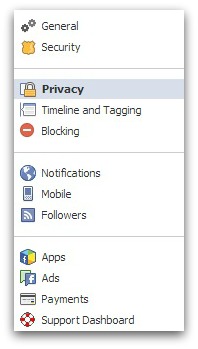 You are now in the Privacy Settings and Tools area of Facebook. From here you can control 'Who can see my stuff?'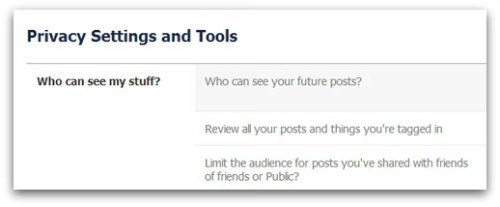 By editing 'Who can see your future posts?' you will be able to choose exactly who gets to see your future updates.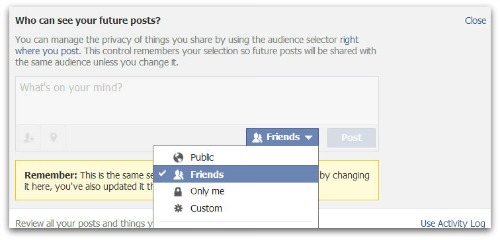 Choose from:
Public (which obviously means everyone)
Friends
Only you
Custom (which allows you to limit some of your friends from seeing your posts)
Pick what's best for you, but make sure 'Public' isn't selected. Whatever you choose will then become the default every time you post an update (though you still have the option of selectively changing this for each individual update you post in the future).
If you want to limit old posts that you may have made available to everyone or friends of friends then you can do this individually in the Activity Log, or you can choose to 'Limit the audience for old posts on your timeline'. This will change everything you've ever posted to only be seen by your friends.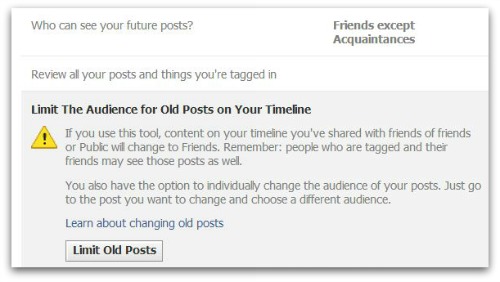 2. Control who can contact you on Facebook
The second part of the Privacy Settings and Tools section allows you to select who can contact you.

By default this is set up to allow friends and people you may know the opportunity to send you a message to your inbox.
If you want only friends to be able to contact you, you can increase the filtering on your inbox. Other messages will then be diverted to your 'other' folder which you can access from your Messages screen.

Additionally you can limit who can send you a friend request. By default, anyone can try to befriend you on Facebook, but if you'd rather limit that a bit you can change it so only friends of your friends can add you as a friend:

3. Limit who can discover your profile based on your email address and/or telephone number
The final option from the Privacy Settings and Tools screen allows you to control who can find you using your email address or telephone number.
Under 'Who can look me up?', click Edit next to the line that says 'Who can look you up using the email address or telephone number you provided?'

Change the setting to 'Friends of friends' or 'Friends' only.
4. Set up login notifications
Facebook can send you an alert every time someone accesses your account from an unknown computer or other device, enabling you to receive a warning that someone has gained unauthorised access to your account.
Still under Privacy Settings, click the second option in the left hand pane.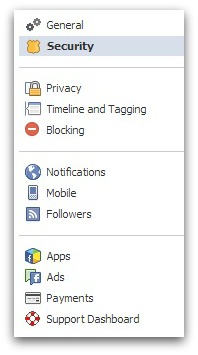 Click Edit next to login notifications and choose whether you want to receive an email or a text message/push alert. Click on Save Changes. Login notifications are now active.

5. Turn on login approvals
Every time you access your account from an unknown browser you can get Facebook to send a code to your phone which you will then need to use to login.
Next to 'Login approvals', click Edit. Then tick the box to 'require a security code to access my account from unknown browsers'. Click Save Changes.

Click Get Started. Facebook will then take you through the process of setting up login approvals.
Note, you'll only need to use a code whenever you login from somewhere new so if you always use the same browser and phone you will not need to verify your identity every time. It does makes it much more difficult for a hacker to get into your account from elsewhere, so it's a great thing to enable.
These are just a few tips that can help you safeguard your Facebook profile.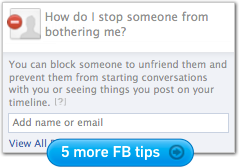 If you have any tips you wish to share, please leave them in the comments below.
And if you're not already a member and would like to keep up to date on the latest Facebook scams and internet threats, please consider liking the Naked Security page on Facebook.