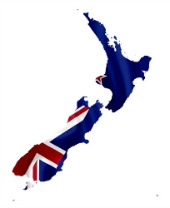 New Zealand has passed new spying laws which allow its main intelligence agency to snoop on domestic citizens and residents.
Prior to the new legislation – the Telecommunications (Interception Capability and Security) bill, also known as TICS – the Government Communications Security Bureau (GCSB) only had the authority to spy on those who had no right to reside in the country.
The government argued that the new bill was required in order to clarify and control the powers of the GCSB. This follows revelations that the agency had spied on Kim Dotcom last year in a US-led operation to close his Megaupload site amidst allegations of online piracy, racketeering, copyright infringement and money laundering.
Dotcom, who holds German and Finnish nationality, also has New Zealand residency and in March this year a court ruled that Dotcom could sue the GCSB for spying on him illegally.
The New Zealand Court of Appeals also concluded that the warrants issued for a January 2012 raid on his mansion were, "unreasonably broad because they failed to address that some items located during the search…would result in the police obtaining material irrelevant to the alleged offending."
Under the newly approved law, however, the GCSB now has the authority to spy on domestic citizens and residents in order to aid the police, military or security intelligence service, subject to lawful authorisation.
With the bill only being narrowly approved by a vote of 61 to 59, TICS comes into force with a level of controversy surrounding it. Prime Minister John Key tried to reassure residents:
This is not, and never will be, about wholesale spying on New Zealanders

There are threats our government needs to protect New Zealanders from, those threats are real and ever-present and we underestimate them at our peril.
Opposition to the new law comes in the form of legal advocates, technology giants and rights groups, as well as Kim Dotcom himself who told a protest group in Auckland that, "This will be the birth of a surveillance state in New Zealand."
Lawyer Rodney Harrison QC, said at a public meeting this week, "the Bill not only removes a prohibition on GCSB spying on New Zealanders, it also includes a definition of 'infrastructure' that embraces all forms of data systems, including content, and that it opens the door to broader use of surveillance by security agencies."
Large technology companies such as Microsoft, Facebook and Google have also voiced concerns about the increase in GCSB's surveillance powers.
In a submission to a parliamentary committee reviewing the bill, Facebook said, "Blanket rules requiring data retention and accessibility are blunt tools, which have the potential to infringe on civil liberties and constrain economic growth."
This new piece of surveillance legislation comes at a time when government spying is a hot topic across the world. Former government contractor Edward Snowden recently leaked information about mass US and UK surveillance programs to The Guardian newspaper.
The actions of Snowden, currently enjoying temporary asylum in Russia, have opened up debate about the balances between protecting national security while at the same time ensuring information privacy for citizens.
And with the US Director of National Intelligence this week revealing that the NSA had inadvertently hoovered up 56,000 emails per year from innocent members of the public while spying on potential terrorists, it's no wonder that this new piece of legislation is a cause for concern for New Zealanders.
Image of New Zealand courtesy of Shutterstock.