Stefani Joanne Angelina Germanotta, better known by her stage name of Lady Gaga, has taken aim at 'hackers' who recently leaked her latest single before its scheduled release date.
The song, Applause, was her first release since 2011 and was originally scheduled to be released on 19 August 2013.
That date was brought forward a week, however, following the leaking of several snippets online.
When Germanotta first heard of the leak she took to Twitter where she said: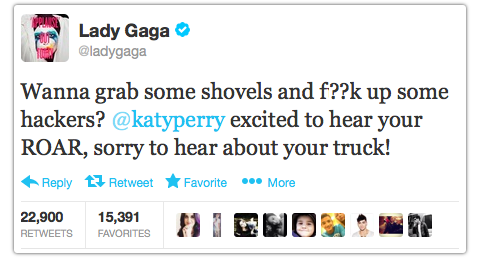 Wanna grab some shovels and f??k up some hackers?
Next came the dramatic declaration that: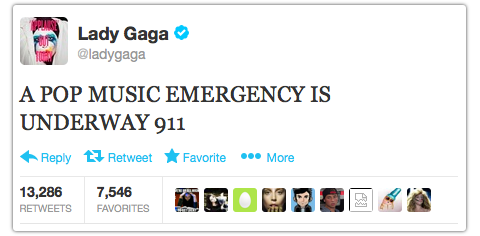 A POP MUSIC EMERGENCY IS UNDERWAY 911.
Germanotta then shared a revealing picture of herself to 'accompany this emergency'.
I'm not really sure how such an image is relevant but, judging by the retweets it has picked up, I'm sure her 'Little Monsters' are now feeling much better about the so-called pop music emergency now.
Either that or they had to have a cold bath – either way, their parents will be pleased.
'Little Monsters', for those of you too old to know, is a phrase that Germanotta herself coined to describe her fans based on the way that they scream and crawl around at her gigs.
The singer has almost 40 million of these impressionable fans following her every word on Twitter, a social network where the pack mentality is very much alive, as evidenced by the number of retweets of the above comments.
Speaking to French radio station NRJ about the leaks and whether she still wanted to attack the hackers who leaked her latest track, Germanotta confirmed:
Yes, I did mean that Tweet. I just think, especially for the music industry right now, it's important that we all stick together, that we support one another and each other's records.
Hackers leaking songs before they're released is detrimental to our marketing plan, so I thought it would be a funny way to tell everyone that we're OK over here in the Haus of Gaga. We got our team together very quickly to be ready for the release.
Considering how much commentary appeared on the web following the news that the song had been leaked, I do wonder just how much damage was actually done to the Lady Gaga marketing plan.
If anything, I would hazard a guess that the single is now far more embedded in the public consciousness because of the leak.
Is this proof that not all 'data breaches' are bad for business?
For what it's worth, Applause, taken from Germanotta's third album, ARTPOP, has met with mixed reviews so far.
Billboard magazine said it is "built around pulsating synthesizers and morphs into a thrilling dance cut when it circles back to its chorus."
But Spin.com, under the headline "The Sound of One Pop Star Clapping for Herself," said the track "offers few reasons to clap" and "is a bit behind the times."
I suspect, however, that the single will perform well in the charts regardless of its musical merits.
Ms Germanotta can thank those who leaked the song for that (despite the fact that uploading a music track hardly warrants the term 'hackers' for those who were responsible), as well as her legions of monsters who all bought into the publicity surrounding this event.
If I had a cynical mind (and I do) then I would have thought that the team at Haus of Gaga would in fact be very pleased with how things panned out, despite their claims to the contrary.