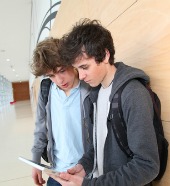 Are you worried about what your child is up to on social media?
Well, if you live in Southern California, you may have a few extra people watching your child's back.
That's because the Glendale Unified School District is investing $40,000 over the next year to monitor its students' social media activity on sites like Twitter, Facebook and Instagram.
The program was introduced after a 15-year old student committed suicide at Crescenta Valley High School. And what started as a pilot project in three schools last year is now being rolled out to all middle and high schools across the district.
It has enlisted the help of Geo Listening, which describes itself as an "always monitoring" service that keeps an eye out for cyber bullying, truancy and substance abuse, among other things.
The service will listen in on all public posts made on social networks while in the school campus grounds and then produce a daily report ready for school staff to read and react.
Geo Listening is keen to remind us that it's only public posts it listens in on:
All of the individual posts we monitor on social media networks are already made public by the students themselves. Therefore, no privacy is violated."
District Superintendent Dr Richard Sheehan told NBC they're doing it to keep up with new trends:
"With modern technology, unfortunately we have to try and stay a step ahead of the kids,

"We're not trying to hide anything, because the whole point of this is student safety."
Some parents are supportive of the idea, including Felicia Collins who said, "I think it can nip it in the bud if someone is being attacked or something negative is being said about a student."
But the children are understandably less keen. Some students have started a Facebook page called Remove Your School and as 14-year-old Matilda Sinany said, "I think it's a bad idea because everybody deserves their privacy."
So is this a good idea? Is it worth it if it can help intervene when there is a problem, or will it encourage bullies to be more sneaky about the ways they pick on other children?
It feels just a bit *too* Big Brother for me – are we going to bring in eavesdroppers in lessons to listen in on conversations between students? Do we need to start having people follow children home in case they stumble across the school bully outside the local shop?
Let us know what you think in our poll below and leave a comment too.
And if you've got children yourself, you might like to show them our top tips to help keep them safe online.
Images of school children and boy on tablet courtesy of Shutterstock.