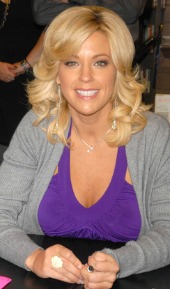 Kate Gosselin, who shot to fame in the US after appearing in a reality TV docusoap 'Jon & Kate Plus 8' about her life with her eight children, including sextuplets, is suing her husband for allegedly hacking into her personal email account, her phone and her bank account, as well as stealing a hard drive full of personal files including family photos.
The information yielded by the alleged hacking and data theft went into a much-hyped book on the couple's very-publicised divorce, written by Robert Hoffman, a tabloid journalist and friend of Jon Gosselin, the celebrity husband who is also named in the suit.
The book was pulled by Amazon after allegations that it relied on improperly-sourced information.
Hoffman claims to have found the information by rummaging through Ms Gosselin's bins, but is also quoted as hinting he has over 5,000 personal photos belonging to her – an unlikely find for a dumpster-diver.
The story has been carried by huge numbers of celeb-loving media outlets, including the notorious Mail Online website, probably mainly as an excuse to carry plenty of photographs of the plaintiff in a variety of outfits.
All stories of course refer to the heinous act of hacking.
The legal papers on the case, filed in the US District Court Eastern Division of Philadelphia and dug out by celeb site Radar Online among others, also make occasional use of the terms "hacking" and "hack", but as so often in these cases it would appear that the words are being used in the loosest possible sense.
A more accurate way of describing the husband's activities might perhaps be "guessing her password", and possibly even "knowing the password having been married to her for 10 years". There certainly seems to be no evidence of any special technical skill involved in accessing the information.
The moral of the story will of course be that you should ensure your passwords are fit for purpose and kept private.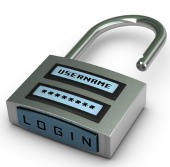 If you are a celebrity with oodles of private information you don't want leaked in a bestselling memoir – and you have a grumpy and possibly vindictive former partner who might know (or have enough knowledge of you to guess) that your email account password is 12345 – you are best advised to change it as soon as possible.
And to change it to something that cannot be guessed, even by someone who knows the names of all your favourite pets, former teachers and most beloved sports teams.
The same advice holds true for normal people, as well as celebrity octomoms. Better still, let a password manager utility create properly complex passwords for you, different ones for all sites, and all hidden behind a single extra-strong passphrase.
There is of course another side to this story, as it would be unkind to put the blame entirely on someone who seems to be guilty of nothing more than the almost universal crime of poor password hygiene.
There have been many cases of partners falling out and using their intimacy to get at information about their estranged other halves that they really should not be seeing, and many of these cases, quite apart from being rather sad, involve some sort of crime being perpetrated.
In a lot of cases, those involved are not fully aware of the criminal nature of their activities.
So if you find yourself on the other side, trying to get at information which is not rightfully yours, ask yourself, should I really be doing this?
If it were, say, an expensive wristwatch or a fancy pair of shoes, rather than some digital bank records or racy celeb photos, would that make a difference? If it was secured by a physical lock rather than a password, would it be right to bust in and make off with the swag?
The answer should be, probably not – so leave that data alone.
Image of Kate Gosselin courtesy of s_bukley / Shutterstock.com. Image of padlock courtesy of Shutterstock.