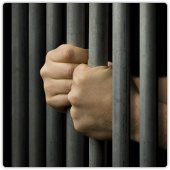 A newlywed will soon be parted from his bride to serve three years in prison for hacking police websites under the Anonymous banner.
John Anthony Borell III, a 22-year-old man from Toledo, in the US state of Ohio, on Thursday was sentenced by a federal judge.
According to The Daily Dot, Borell, better known by his handle @ItsKahuna, was convicted for his part in the #OpPiggyBank hacking of police websites by the group CabinCr3w.
As Borell admitted in a signed plea deal, in early 2012, he attacked a server for Utahchiefs.org, a website for police in Syracuse, New York, the municipal website of Springfield, Mo., and a site for the Los Angeles County Police Canine Association, according to The Huffington Post.
He took credit for the actions via the Twitter account, according to The Daily Dot. Twitter subsequently cooperated with investigators by supplying IP data that enabled them to track the account to Borell.
Borell was arrested in March 2012.
According to The Daily Dot, the hacks included defacing the Texas Police Association's website to read, in part:
Dear Texas Police Dept,
Paid administrative leave should be reserved for injured cops, cops with pregnant wives, and cops who declare themselves conscientious objectors to a raid. Not a kiddie porn collecting cop. It looks as if Texas PD hasn't improved since the cousin of the PD, the Texas Youth Commission was caught with rape rooms.
Targets: Texas PD and Syracuse
Why: Insufficient effort
...
Judgment: We must troll you
According to the Office of Inadequate Security, the hacker(s) dumped 787 police officers' names, usernames, plain-text passwords, agencies and addresses, some of which were reportedly home addresses.
In his plea agreement, Borell admitted to jeopardizing "the security of the personal information of many people, most of whom worked in law enforcement" by gaining unauthorized access to agency computer systems and posting it online.
He said this in his description of the hacks in the plea agreement:
"Regarding all of these hacks, I knew what I was doing was illegal."
Prosecutors said Borell's actions victimized thousands and cost some $260,000 to repair as they beefed up security following the attacks.
Borell also admitted to compromising the computer systems belonging to law enforcement agencies from Los Angeles, Syracuse, the official city site for Springfield, Missouri, and a community webpage in Illinois called pendletonundergound.com.
Many other officers' personal details were exposed during the course of the hacking operation. Check out RT.com's coverage for more details.
US District Judge Robert J. Shelby said that the sentence handed down on Thursday would also resolve charges filed against Borell in California, Missouri and New York.
The newly married Borell will be allowed to spend 10 weeks with his family before he has to turn himself in to start his sentence.
Prosecutors said that he originally faced a $250,000 fine and up to a decade in prison if convicted on both counts of computer intrusion.
Image of hands on bars courtesy of Shutterstock.