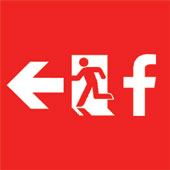 Facebook, which boasts over a billion users, is by far and away the largest social network in the world. In fact, many of us would be hard pressed to name any of our own contacts who are not already registered.
Lately, however, there's been a trend for people to disconnect from the network. Specialised sites such as The Suicide Machine and Seppukoo (both now unavailable due to issues with the social giant) made it easy for users to delete their content and contacts before having a new and inaccessible password set on their behalf in order to block their return.
So why are people committing "virtual identity suicide"?
University psychologist Stefan Stieger, Ph.D, and his fellow researchers from the University of Vienna looked into this question. They spoke to around 300 current Facebook users and an equal number of quitters to see how they differed.
Their responses were used to assess measures focused on their level of concern over areas such as privacy and their tendency towards internet addiction.
The personalities of both those who remained on Facebook and those who had left were also looked at, with traits such as extroversion, neuroticism, agreeableness and conscientiousness recorded.
The university's research revealed that the top four reasons why those studied had quit Facebook were:
Concerns over privacy on the social site – 48.3%
A general feeling of dissatisfaction with Facebook – 13.5%
Meaningless conversations and negative interactions with friends – 12.6%
The fear of becoming addicted to the social network – 6%
The analysis of personality types discovered that those who had quit Facebook tended to be older, conscientious males who had a general level of concern about privacy as well as a higher predisposition towards internet addiction. Beyond that, aspects of a user's personality appeared to have no bearing on whether they committed "virtual suicide" or not.
The researchers wrote in the journal Cyberpsychology, Behavior, and Social Networking:
The present research is to our knowledge the first to focus on psychological characteristics of individuals leaving social networking sites (SNSs) by committing so-called virtual identity suicide. Compared to Facebook users, quitters had higher general concerns about privacy, higher internet addiction scores, and higher conscientiousness.
They also highlighted comments made by Facebook founder and CEO Mark Zuckerberg back in 2010 when he suggested that privacy was an outdated concept in today's ever more connected world.
Perhaps, they suggested, many users did still indeed care about their privacy. So much so that it outweighed the benefits they saw in remaining on Facebook.
But this apparent increase in privacy awareness isn't solely because of Facebook. As Brenda Wiederhold, editor of Cyberpsychology, Behaviour and Social Networking, puts it:
Given high-profile stories such as WikiLeaks and the recent NSA surveillance reports, individual citizens are becoming increasingly more wary of cyber-related privacy concerns. With photo tags, profiling, and Internet dependency issues, research such as Prof. Stieger's is very timely.
What about you? Have you, or anyone you know, left Facebook because of concerns about privacy?
Image of exit sign courtesy of Shutterstock.