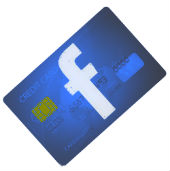 On Monday night, a very hush-hush Facebook tiptoed into testing an "Autofill with Facebook" feature – autofill your credit card information, that is – that it will begin rolling out to some users this week, according to The Verge.
According to sources familiar with the company's plans, the new payments product will allow online shoppers to make purchases on mobile apps using their Facebook login, AllThingsD reports.
Wait, you say – Facebook has my credit card information? Where did it get it from? The NSA?
No, no, no, Facebook doesn't have your credit card details. As far as I know. Yet. Unless you've already given it to them, that is, to buy e-sheep or whatever on FarmVille or some such Facebook app, you crazy e-farming nut, you.
If you have given Facebook your credit card information, you'll be able to buy things on partnering e-commerce mobile apps without having to enter your billing information – instead, you'll be able to use your Facebook account to fill it in for you.
Facebook told The Verge that Facebook Login will not be required for Autofill to pop up, but that users will need to be logged into the Facebook app on their device and have their card already on file with the network in order to see it.
AllThingsD says that Facebook has been testing the payment feature with "a handful" of retail partners. Only a small group of users now have the feature enabled and can only use the new "Autofill with Facebook" through apps from two pilot partners: clothing retailer Jack Threads and photo printer Mosaic.
Facebook will reportedly scale up the service as it continues testing and as it signs on more retail partners.
Is Facebook looking to replace PayPal or to compete with its payment services brethren – Google Wallet, Amazon, ProPay, Square, or startups such as Braintree, Stripe and Klarna?
Sucharita Mulpuru, a retail analyst at Forrester Research, told AllThingsD that it sure sounds that way.
Facebook might be playing coy, but for what it's worth, it told AllThingsD that no, no, that's crazy, given how tight its relationship is with PayPal. For now, it's focused on simplifying checkout, with a setup that will still allow partnering commerce companies to still work with whatever payment processor they like.
After all, as all the payment services providers well know, entering payment information on our dinky little devices is a bit of a pain.
As its name suggests, the feature appears to simply fill information into existing forms, rather than completely taking over the process of checkout.
But would anyone actually trust Facebook with their financial information?
No, Mulpuru told AllThingsD:
Nobody trusts social networks with their financial information, and they are certainly not going to trust Facebook. ... Maybe they have a few million people that have bought something on things like FarmVille, but that does not a network make.
A commenter on the Verge story, Tuan X, pointed out that it's not appropriate to freak out, given that the PayPal-ish, Google Wallet-esque service is opt-in:
Well the plus with all of these services is that everything is an option! Sometimes people get out of hand & think Facebook or whomever is trying to steal their life & identity when they, 91.3% of the time, don't have any info that they haven't give them themselves.
Thank you for the reminder, Tuan X, but I'm instead opting for full, adrenalin-overdose, skin-tingling freakout on this one.
If this stays opt-in, then fine. Go forth, Facebook, and feast upon the valuable in$ight you and your advertisers will undoubtedly glean from the types of products and services your users buy off of Facebook.
But Facebook has never shown much taste for opt-in. We see that repeatedly.
The most recent example is a proposed privacy policy change that would rubber-stamp the use of teenagers' names, images and personal information to endorse products in advertisements, with Facebook declaring that it's going to deem teens' presence on Facebook as meaning that their parents or legal guardians have agreed that commercial use of their tots is all fine and dandy.
Will Facebook someday require us to hand over credit card information to get or maintain our accounts?
It sounds far-fetched. Maybe that's a paranoid idea.
Maybe the only thing we have to look forward to, at least in the near future, is the prospect of Facebook handling part of the mobile payment process.
What could possibly go wrong?
Please share your rants, screams of terror and maniacal laughter in the comments section below.