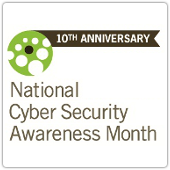 Today is the start of National Cyber Security Awareness Month (NCSAM), a US initiative aimed at making sure everyone has the resources they need to stay safer and more secure online.
But it isn't just for those of you in the USA. Everyone, wherever they are, should use this month as a way to get clued up on security, help educate others on how to stay safe online, and spread the security message.
If you're reading this, you're probably already pretty clued up on how to use the internet safely. But are your friends? What about your family?
'Our Shared Responsibility'
That's the theme this year – so let's make sure we all do our bit. Get started by reading our three essential tasks you can do to help your friends and family.
And because it's the 10th anniversary of NCSAM, we've come up with 10 security topics that have hit the headlines over the last decade. From the hand-wavingly general to the pointedly specific, it makes an interesting read.
We'll be writing a lot more about NCSAM over the next month, so stay tuned.
Oh, and to mark the month we're giving away 5 goody bags!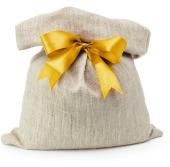 We'll be selecting one winner a week from our list of newsletter subscribers to say thanks to our loyal fans.
If you already receive our newsletter you'll be automatically entered into the draw. And if you're yet to subscribe and you'd like to be in with a chance of winning, you can sign up here.
We'll be in touch at the end of the month if you've won. Good luck!
Image of gift bag courtesy of Shutterstock.