A £1 million ($1.6 million) London home has been redecorated with vomit-saturated furniture and carpets, laughing gas canisters strewn across the ruined carpet, and a skylight broken after somebody fell through it, all courtesy of the 600 gatecrashers who showed up after a party was posted on Facebook with the toggle set to "public".

What homeowner Catherine Seale said to her 17-year-old son, Christopher, before leaving with her husband for a holiday in the south of France: "Don't throw a party."
What Christopher did: Threw a party.
Christopher, in fact, invited 60 guests to a gathering at his parents' home on Saturday.
Unfortunately, his best friend mentioned the party on Facebook without realizing the post was public, according to the Huffington Post.
His mother found out about it after a friend called to tell her that 600 partygoers were wrecking her home.
Neighbors told the Huffington Post that six police back-up units were required to break up the crowd, which in the space of two hours mushroomed to a crowd of at least 600 and well beyond just teenagers.
One girl was reportedly rushed away in an ambulance, suffering from alcohol poisoning.
One neighbor, Mark Daly, told the Huffington Post that he caught men in their 30s urinating on his front door step and on his car:
He was just standing on my car relieving himself. I caught him and told him to pull it together. As soon as he saw me he stumbled away.

But then five minutes later there was another one urinating close to my letterbox. When I opened the door he got a fright and nearly injured himself trying to jump off the doorstep and run away from me.
Another neighbor, Adam Keyne, told Huffington Post that his BMW's wing mirror had been smashed, leaving him with a £250 bill, and confirmed that these weren't just kids on a bender:
The first couple of hundred people were teenagers getting a bit drunk, which shocked me because they were all very posh yet very raucous.

But then I became worried because there were men in their thirties and forties looking to cause real trouble. They were sitting on people's wall screaming and insulting passers-by.
Another neighbor, Ian Grant, told The Telegraph that one gatecrasher vomited outside his front gate before asking for a postcode so his mother could come get him.
No arrests were made, but Catherine Seale made sure her son apologized to neighbors and told news outlets that Christopher will be donating his free time to charity.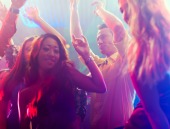 As it is, the public posting of a party on Facebook has left the Seales with a home that's still a bit sticky, with the smell of vomit lingering days after the bacchanalia.
Still, it could have been worse, Ms. Seale told Huffington Post, beyond the one case of alcohol poisoning and the thousands of pounds worth of damage done to her home:
They could have been killed. Even though it had been cleaned up when I got back from France, everything felt sticky and dirty and it stunk.

There was vomit in the sitting room, cushions were completely ruined, and the sofa stank for days.
There's nothing new about her admonishment regarding parents' need to realize that leaving a 17-year-old alone can result in episodes like this:
All parents should be warned that this could happen if you go away and leave your 17-year-old alone.
Facebook is, of course, the twist to this age-old tale. Ms. Seale offered advice on the matter of checking Facebook settings before posting applies to every one of us in Facebook nation, whether we're posting truly embarrassing updates that could get us fired or parties that a) haven't been parentally approved and/or b) could wind up in a riot that trashes our parents' posh homes.
She says:
I think if anyone is going to throw a party, they need to look at their privacy settings on Facebook. It's absolutely essential that children are made aware of this.
Hallelujah to that, Ms. Seale, and best of luck in getting that stench to come out.
Image of party and people dancing courtesy of Shutterstock.