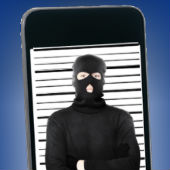 Beki Akins, a resident of the US state of Oklahoma, is the granddaughter of an elderly couple who were recently held at knifepoint by a masked man who threw Akins's grandmother to the ground, ransacked their home, and physically and verbally assaulted her grandfather.
Thanks to her quick use of social media, Ms. Akins is also, now, the poster child for showing when it can be advantageous to post things publicly on Facebook.
The grandparents, who live in Broken Arrow, Oklahoma, were held captive early last week.
Police searched for the burglar for more than 24 hours.
A suspect is now behind bars, after Ms. Akins publicly posted a description of the assailant on Facebook, Tulsa World reports.
The suspect, Michael Lank, 30, of Tulsa, was jailed on Tuesday following the robbery.
Police had been tipped off by Lank's brother-in-law, Ken Reddick, also of Tulsa, who saw Akins's Facebook status update and immediately thought that her post might well be describing Lank.
That update had been shared nearly 9,000 times at of the time that NewsOn6.com reported on the story on Wednesday, 2 October.
Reddick first contacted Akins and her family, then he contacted the police.
Bail has been set at $52,500 on complaints of first-degree robbery by force or fear, stolen property, and false declaration of ownership, Tulsa World reports.
Broken Arrow Police Department public information officer Leon Calhoun told Tulsa World that the police are appreciative when the public shares information about crimes within the community on social media, but the practice can actually hinder police investigations:
Friends and family members of the suspect could see that and alert the individual we are out there looking for them. … The suspect then could try to hide, run away or even destroy evidence. We always want the public to contact the police first.
Akins told Tulsa World that she turned to Facebook because she knew that news of the crime would spread fast and far, thus getting more people involved in the search for the robber:
Word travels fast online. Without the power of social media, this guy would still be on the street trying to hurt someone else.
It sounds good, on the face of it, doesn't it? Bad guy, off the streets, thanks to the effects of a public posting on Facebook having rippled out to catch the burglar. Good, yes?
I'm afraid that that conclusion doesn't hold water, as simple and satisfying as it seems.
You know how security geeks are always clucking our tongues about checking Facebook settings to make sure you don't wind up with, say, a mob of partygoers who saturate your home furnishings with vomit or that you don't post truly embarrassing things like how you showed up to work late and hung over?
Party invitations and drinking spree histories should obviously be private.
Should descriptions of criminal suspects always be marked public on social media sites?
There are instances when internet vigilantism, fueled by the speed of viral spread and the public's enthusiasm for nabbing the bad guys, has gone very bad, leading innocent people to be persecuted.
A recent example is the Boston Marathon bombing.
Social media site Reddit found itself apologising after dozens of self-appointed investigators in the Find Boston Bombers forum erroneously pointed fingers at innocent bystanders as "suspects".
The incident showed that crowdsourcing can go very wrong, very fast.
When we post descriptions of possible criminals on social media, it sets up potentially innocent people to get singled out and harassed by righteous mobs.
I'm very glad that Ms. Akins's grandparents only suffered scrapes and bruises.
But I'm not going to make her the poster child for when to post things publicly. Instead, I'm taking to heart the admonitions of Officer Calhoun.
Namely, we the public should stick to feeding information about crimes to law enforcement.
Image of burglar and phone courtesy of Shutterstock.