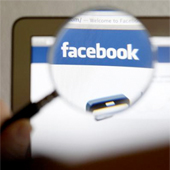 In December 2012, Facebook announced a slew of privacy changes, one of which – the axing of the "Who can look up my timeline by name" feature – annoyed privacy aficionados.
The feature controlled whether someone could be found by typing their name into the Facebook search bar.
The setting was limited in scope and didn't keep people from being found in other ways across the site, Facebook said at the time.
Facebook yanked the setting last year for people who weren't using it.
For the minority of users still using the setting, the plug is now being pulled.
Facebook Chief Privacy Officer Michael Richter said in a blog posting on Thursday that the remaining 'get the heck away from my timeline' people will see reminders about its imminent death in the coming weeks.

Richter re-emphasized what Facebook said when it first warned of the feature's demise: namely, that users are better off choosing the sharing status of individual postings:
Whether you've been using the setting or not, the best way to control what people can find about you on Facebook is to choose who can see the individual things you share.
For example, Richter wrote, the feature didn't prevent people from navigating to your timeline by clicking your name in a story in News Feed, or from a mutual friend's timeline, or by using Graph Search (for example, 'People who live in Seattle'), thus making it "even more important to control the privacy of the things you share rather than how people get to your timeline."
Oh yes, Graph Search is the super-duper find-you tool, for sure.
In fact, Facebook announced on 30 September that Graph Search can now paw through your posts and status updates – in other words, all public Facebook posts ever made since the dawn of Facebook time are now searchable.
As I said at the time, for those who haven't cleaned up their more embarrassing tracks already, the time is ripe to lunge for the Activity Log.
In light of the most recent news about the who-can-find-me-on-timeline feature's demise, some of us may need a refresher course on who can see what, as well as how to stay safe on Facebook.
Naked Security kicks it off with this list of 5 tips.
And since the Facebook safety saga tends to take on the epic scope of a TV mini series, here's another 5 tips on staying safe on Facebook, plus, just because we live in tag-happy times, here's how to check your photo-tagging settings.
Much as it did 11 months ago, the removal of this feature still seems like the wrong direction. If the original setting was limited in scope and failed to do what it purported – e.g., choose who can find you – why didn't Facebook choose to rework it so as to actually protect people's privacy and give them the right to not be found?
On the plus side, in the coming weeks, Facebook will send notices to people who share posts publicly, reminding them that the posts can be seen by anyone, including people they may not know. The notices will include reminders about how to change the audience for each post.
Hopefully, that will be a helpful nudge to groups such as, for example, single women who like men *and* who like getting drunk.
*And* who might not be aware that every little bit of that is public knowledge.
Are you on Facebook? Do you want to keep yourself informed about the latest Facebook developments? Join the Sophos Facebook page for news and tips.