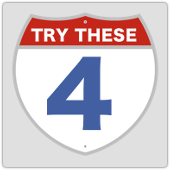 Regular readers of Naked Security will know that we aren't terribly prone to commercialism.
We don't think we need to be.
The brand we represent is pretty obvious, after all.
We have the domain name nakedsecurity.​sophos.​com, and our corporate logo appears on every page, where we say, "Award-winning news, opinion, advice and research from SOPHOS."
Nevertheless, we'd like to offer you some free Sophos stuff.
Here's why.
You may have seen our popular article entitled DO THESE 3, where we give you three ways to boost the safety and security of your on-line life.
The first task we ask you to do, especially if you act as unofficial home IT support for friends and family, is to get serious about keeping malware out.
Of course, that's a bit like saying to a student with a examination coming up, "Don't forget to do your revision!"
It's well-meant advice, but it begs the questions, "How? What tools and techniques would you recommend? Where do I start?"
So here is a brief and, we trust, unpushy list of four free tools you can find on our website.
Sophos Virus Removal Tool
This is a simple and straightforward tool for Windows users. It works alongside your existing anti-virus to find and get rid of any threats lurking on your computer.
It does its job without requiring you to uninstall your incumbent product first. (Removing your main anti-virus just when you are concerned about infection is risky in its own right.)
Download and run it, wait for it to grab the very latest updates from Sophos, and then let it scan through memory and your hard disk. If it finds any threats, you can click a button to clean them up.
Sophos Anti-Virus for Mac Home Edition
Yes, Macs get viruses too.
And even if you never see a virus that directly attacks your Mac, the chances are good that you'll encounter malware from your Windows-using friends (or even from your own Windows partition, if you dual-boot your Mac).
Sophos for Mac stops threats for Windows and Mac alike, protecting you and those you share files with.
Choose from blocking viruses in real time (on-access protection), scanning at scheduled times, or running a check whenever you want.
Sophos Mobile Security for Android
Our Sophos Mobile Security app protects your Android device without reducing performance or battery life.
Using up-to-the-minute threat data from SophosLabs, we automatically scan apps as you install them.
As well as malware protection, you'll also get: loss and theft protection with remote lock and wipe; a security advisor to alert you if you inadvertently activate risky configuration settings; security scanning of SMSes you receive and of web pages you visit; plus a privacy advisor to help you decide whether an app is asking for too many permissions.
Sophos UTM Home Edition
You'll need a spare computer to install it on, and you'll probably want to get your unofficial home support techie to set it up for you, but if you do, you'll have our award winning network security device for businesses, 100% free for home use.
That includes all the Sophos UTM features: email scanning, web filtering, a VPN, web application security, and everything you need to keep up to 50 devices on your home network secure.
In you live in a shared house, or you have children to look out for online, this could be just the product you need.
Better yet, you get 12 free licences for Sophos Anti-Virus for Windows that you can install and manage throughout your household, right from the UTM web console.
You can get any or all of these tools free of charge from our website.
So, if you've been thinking, "I really ought to get more serious about cybersecurity," just remember that there's no time like the present.
Image of counting hands used on Facebook courtesy of Shutterstock.