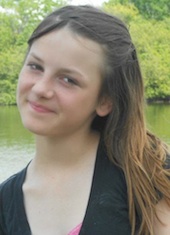 Rebecca Ann Sedwick, a 12-year-old Florida girl, leapt to her death from an abandoned cement factory silo on 10 September.
That did not stop the bullies.
One month after her suicide, the offline and online bullying that tormented Rebecca for over a year was still a sickening miasma thriving in venues such as Facebook.
And now, two girls – ages 12 and 14 – have been arrested and charged in connection with the bullying, after the 14-year-old allegedly bragged on Facebook about her part in Rebecca's death, signing the post with a little red heart.
The bullying was reportedly started over a boyfriend.
According to the New York Times, the sheriff's office of Polk County, in the US state of Florida, which has been investigating the suicide, was alerted to the Facebook post over the weekend.
The poster said that she knows, and does not care, that her bullying led to Sedwick's suicide.
The post, in internet shorthand:
Yes ik [I know] I bullied Rebecca nd she killed her self but IDGAF ♥
Polk County deputies had been investigating around 12 girls for allegedly harassing Rebecca by calling her ugly and worthless, telling her that she deserved to die, and urging her to drink bleach, the Orlando Sentinel reports.
On Monday, police arrested the alleged author of the post along with another 12-year-old girl.
In a news conference on Tuesday, Polk Sheriff Grady Judd said that the poster of the hateful comment did not get the enormity of this tragedy.
An excerpt from Sheriff Judd's remarks, which can also be heard in this myFox Tampa Bay video clip:
'Yes, I bullied Rebecca, and she killed herself, but I don't give a …' You tell me there's not major league problems here? You tell me there's not parents who, instead of taking that device and smashing it into a thousand pieces in front of her child, she says, 'Oh, her account was hacked?' We see where the problem is.
Sheriff Judd said that the detectives hadn't anticipated making arrests so quickly, but that they were goaded by the online remark, the NYT reports:
We learned this over the weekend, and we decided that, look, we can't leave [the older girl] out there. Who else is she going to torment? Who else is she going to harass? Who is the next person she verbally abuses and attacks?
The girls, neither of whom had a prior arrested record, were charged with the third-degree felony charge of aggravated stalking.
The older girl was taken into custody in the juvenile wing of the county jail. Police said the younger girl expressed remorse and therefore was released to her parents under house arrest.
I can appreciate Sheriff Judge's anger, amazement and frustration as he and his deputies, and, of course, Rebecca's family, have been faced with this horrible situation, which has continued to spread ripples even beyond her death.
Smashing devices in front of children may sound like a decisive and satisfying way to stop the hateful environment that can engulf a cyber bullying victim.
But it won't stop the harassment, whether you smash the victim's smartphone or you take a hammer to the bully's laptop.
In fact, Rebecca's mother told news outlets that she didn't take away her daughter's smartphone because of the fear of alienating her in this way.
As for the bullies, they'll find a way, device or no device, virtually or in the real world. As Rebecca's story points out, the abuse spills out in both arenas.
There are many other resources out there to help fight cyber bullying, short of pulverizing kids' phones.
As Sophos's John Shier pointed out recently, it's up to all of us to give children the tools they need to both be good online citizens – see Wheaton's Law, if all else fails – and to recognize, and report, harmful behaviour.
In the wake of other cyber bullying-related suicides, including that of Amanda Todd, Rehtaeh Parsons and Audrie Pott, their grieving families, concerned legislators and cyber security groups have been working to give parents, caregivers, teens and children those tools and to build awareness around the effects of cyber bullying.
Some of the resources parents, as well as others who have the power to influence children, can turn to:
National Cyber Security Alliance's Stay Safe Online campaign provides a comprehensive set of resources for our own personal online safety and for teaching others to be safer online.
A provincial program named ERASE, rolled out by British Columbia after Amanda's death, which out addresses bullying and harmful behaviour in schools and provides children and parents with an online resource for discussing and reporting cyber bullying.
Please feel free to share resources and your own tips for keeping teens and children safe in the comments below.