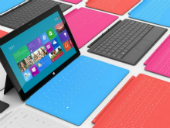 If you like to stand out from the crowd then you may have taken the decision to set yourself apart from the legions of Android users and iOS fans when it came to choosing a tablet.
Over the weekend those of you using a Windows RT device were probably looking forward to the thought of the impending update to version 8.1 of the operating system. That is, right up until the time you actually installed it.
Alas, with the majority of aspiring Windows RT 8.1 users being in possession of a Surface tablet, the update proved to be a major fail on Microsoft's part.
Soon after the 8.1 update was released, it was subsequently pulled from the Windows store with the company saying:
Microsoft is investigating a situation affecting a limited number of users updating their Windows RT devices to Windows RT 8.1. As a result, we have temporarily removed the Windows RT 8.1 update from the Windows Store. We are working to resolve the situation as quickly as possible and apologize for any inconvenience. We will provide updates as they become available.
Whilst the company did not expand upon what it meant by a "situation" it is widely believed that the issue appears to be centered around the update corrupting certain boot data which in turn leads to the device crashing as it starts up.
Users who have encountered this problem were faced with a blue screen of death (BSOD) that displayed the following message:
Recovery
Your PC needs to be repaired
The Boot Configuration Data file is missing some required information
File: \BCD
Error code: 0xc000000d


You'll need to use the recovery tools on your installation media. If you don't have any installation media (like a disc or USB device), contact your system administrator or PC manufacturer.
If you reach out to the Microsoft support team then it is likely that you will be advised to put an image of Windows RT onto a USB flash drive and then use it as a recovery disc.
This can be achieved by either using another RT device (but not a x86 PC) to create the recovery disc or by using an ISO supplied by Microsoft. (Hopefully you'll have more success than Mashable's Editor-in-Chief Lance Ulanoff who was unable to actually download said ISO.)
If that solution sounds complicated then there may be an easier alternative thanks to a detailed 11 point guide from kickthatcomputer that just about everyone will be able to follow. This method circumvents the need for a RT recovery disc and merely requires a USB recovery device prepped on any machine using Windows XP or above.
If neither of those solutions get you back up and running with Windows RT, and your device remains "bricked", then you may have to wait for an official update or how-to guide from Microsoft.
With Windows RT making up a minuscule part of the overall Windows 8 user base, Microsoft will be extremely relieved that this issue only affects ARM-based devices – there are no reports of non-RT users of laptops, netbooks and desktops experiencing blue screens so they should remain confident in updating to Windows 8.1 straight away.