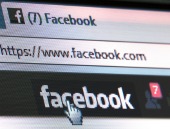 Video clips depicting beheadings have been allowed back onto Facebook.
Facebook temporarily banned decapitation clips in May after receiving complaints about the potential of long-term psychological damage from watching such horrific material.
According to the BBC, the company has now relaxed its stance.
Violent content, including beheadings, are now allowed, as long as the intent is to raise awareness rather than to celebrate violence.
Earlier this week, Facebook told news outlets that it was considering adding warnings to such content. Here's what it told the BBC:
Facebook has long been a place where people turn to share their experiences, particularly when they're connected to controversial events on the ground, such as human rights abuses, acts of terrorism and other violent events.

People are sharing this video on Facebook to condemn it. If the video were being celebrated, or the actions in it encouraged, our approach would be different.

However, since some people object to graphic video of this nature, we are working to give people additional control over the content they see. This may include warning them in advance that the image they are about to see contains graphic content.
It didn't take long.
After receiving a slew of backlash since the news spread on Monday, Facebook moved quickly to implement such warnings that will appear before graphic videos.
The message reads:
WARNING!
This video contains extremely graphic content and may be upsetting.
Regardless, Facebook's decision to allow this content is still not sitting well. The BBC quoted one suicide prevention charity that condemned the move.
Dr Arthur Cassidy, a former psychologist who runs a branch of the Yellow Ribbon Program in Northern Ireland, told the BBC that such material can quickly leave scars:
It only takes seconds of exposure to such graphic material to leave a permanent trace - particularly in a young person's mind.

The more graphic and colourful the material is, the more psychologically destructive it becomes.
The BBC reports that two of Facebook's official safety advisers have also criticized the decision.
The backlash to the violent video is widespread: it includes at least one Facebook advertiser, charities that support kidnapping victims and their families, and the South Australia Police Force.
For its part, the car-sharing firm Zipcar denounced the beheading video and Facebook's decision to publish the content.
The BBC quoted a statement Facebook put out on the matter:
We want you to know that we do not condone this type of abhorrent content being circulated on Facebook.
We have expressed to Facebook in the past the critical need to block offensive content from appearing and we will continue to engage with them on this important matter.
Facebook has since disabled Zipcar and other firms' ads from appearing on the page in question.
Facebook policy specifically prohibits "photos or videos that glorify violence or attack an individual or group."
The BBC was alerted to the change in policy when a reader pointed out that Facebook had refused to remove a page showing a clip of a masked man killing a woman, believed to have been filmed in Mexico.
The BBC reports that the video was posted last week under the title, Challenge: Anybody can watch this video?
I couldn't find the video on Facebook, but Gizmodo coverage features a still photo, apparently taken from the Facebook post, the caption for which implies that the beheading victim was killed for cheating on her husband.
A Facebook spokesperson explained to Gizmodo that the Boston Marathon bombing illustrates an instance wherein posting violent content serves the greater good:
There was a gentleman whose legs had been blown off. If we'd had a more conservative stance, that image would not have been allowed on the site.

What we want to do is give folks the right balance of being able to control what it is they're seeing. We're definitely aware that this is not the perfect policy. We're always trying to improve it.
I can sympathize with the difficulties Facebook faces in both supporting the free exchange of ideas and in avoiding publishing material that appeals to the most base examples of human curiosity (as Gizmodo points out, its photo of the beheading victim shows that it was shared almost 18,000 times).
But as many have pointed out, Facebook's policy has jarring contradictions.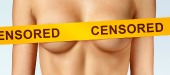 Posting violent content – be it photos depicting a terrorist attack victim or a murder – passes muster, whereas nudity is verboten, including images of females' breasts unless they depict an infant latched on and suckling.
Can we blame Facebook for its strange prudishness about the human breast?
I think not. As Facebook points out, it reviews photos almost exclusively based on Facebook members' complaints about them being shared on Facebook.
We are, evidently, complaining to Facebook about the wrong things.
UPDATE (23 October):
Presumably due to public demand, Facebook has now removed the video clip showing the woman being beheaded, saying it is also "strengthening the enforcement of our policies".
First, when we review content that is reported to us, we will take a more holistic look at the context surrounding a violent image or video, and will remove content that celebrates violence.

Second, we will consider whether the person posting the content is sharing it responsibly, such as accompanying the video or image with a warning and sharing it with an age-appropriate audience.

Based on these enhanced standards, we have re-examined recent reports of graphic content and have concluded that this content improperly and irresponsibly glorifies violence. For this reason, we have removed it.
Image of Facebook and censored female courtesy of Shutterstock.