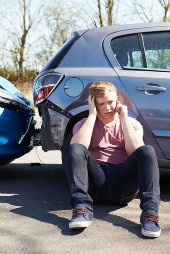 Ever since I first passed my driving test I realised how expensive motoring could be. Just buying a car and filling the tank with petrol took my entire childhood savings. Thankfully the yearly road tax and insurance costs weren't too high.
Now though, as my own kids approach the age of theory tests and driving tuition, the costs have rocketed up.
The largest expense these days appears to be insurance. Just the other day I was looking at quotes with my eldest and we discovered that the most basic third party cover he could obtain would cost him six times the value of the car he was thinking of buying.
Its no wonder then that the vast majority of motorists will invest at least some time into acquiring the best value policy they can find.
In many ways, the advent of the internet has helped in this regard – comparison sites have sprung up, offering a multitude of insurance policies presented in a format that allows the cheapest deal to be quickly identified.
Likewise, social media posts and traditional classified adverts can also offer tempting deals for those who need cover.
Unfortunately, however, some youngsters have found that things are not always as they seem with such offers.
As the cost of car insurance rises against a backdrop of youth unemployment and stagnating wages, many young drivers have been tempted to pay large up front fees for policies which are significantly cheaper than other quotes they have been given.
Of course there is an adage that they should have considered before parting with their money – "if something sounds too good to be true… it probably is" – and that is very much the case with a form of car insurance fraud known as "ghost broking."
The UK's police insurance fraud unit has said that they are seeing an increasing number of such scams that particularly target younger drivers whose annual premiums are guaranteed to be on the large side and therefore will make the most profit for the criminals.
Offering significant savings, the ghost policies are actually worthless and could leave the purchaser open to six penalty points on their driving license for driving without insurance.
Additionally, should a driver who wrongly believes they are insured be unfortunate enough to be involved in an accident, they would quickly discover that any claims for vehicle damage or personal injury would have to come out of their own pockets.
The victims of ghost broking rarely know that their insurance policies are not valid, only discovering the truth after an accident or when stopped by the police.
Talking to BBC Newsbeat, one victim, Peter Townsend, said:
I went online. I was just having a browse about and a website came up where you fill in a form and they call you back.

This company called me back with quite a good quote, just short of £1,600, where the others were about £2,000.
After making an initial payment of £750 the 19-year-old felt he had got himself such a good deal that he decided to return to the same website a month later to obtain a quote for his sister.
Instead of the page he was expecting to see, he saw a blog warning that the original site was a scam. He rang the DVLA (Driver and Vehicle Licensing Agency) who told him that the insurance policy he had purchased was bogus and that he was in fact driving around uninsured.
Estimates suggest that over 20,000 drivers in the UK may be blissfully unaware that their current insurance cover is worthless, though with most victims of ghost broking being unaware that they have been conned it's hard to get an accurate number for how many such policies may have been sold.
Earlier this month, 27 people were arrested in stings across the UK, suspected of being involved in ghost broking.
DCI Dave Wood, head of the Insurance Fraud Enforcement Department (IFED), said at the time:
The consequences for innocent motorists who fall victims to ghost brokers can be dire, so it is absolutely vital that drivers shopping for car insurance online, or through other means, question what they are being offered to ensure they get a real deal.
While it is understandable that young drivers will wish to save as much money as possible, especially on such expensive and necessary insurance cover, this is one area where it is vital not to get ripped off – the financial and legal consequences are far too severe to risk it.
If you are looking to take out a new insurance policy then make sure you do your homework and only buy from a reputable company.
If buying through the web please ensure that you proceed with caution. Only buy a policy from a company's official site and do not be tempted by deals that look too good to be true. There is every chance that they are.
Image of young driver courtesy of Shutterstock.