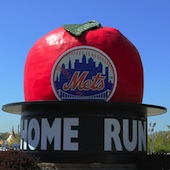 A US man in West Haven, Connecticut has been arrested for allegedly Tweeting threats to executives, players and coaches of the New York Mets – a professional baseball team based in the borough of Queens in New York City – as well as a specific threat to Citi Field, the stadium in which they play.
NBC Connecticut reports that police on Wednesday arrested Aryn Leroux, 42, on an outstanding warrant. (Another report states that his age is 32.)
Details are scarce. Leroux's Twitter feed has likely been deleted or suspended, as neither I nor other reporters seem to have been able to find it.
But the New York Post's Mike Puma did provide some detail on just what Leroux allegedly said, saying on his Twitter feed that Leroux – reportedly a devoted Mets fan – tweeted to one player about a "plan to sneak into the clubhouse and put bombs in everyone's cleats."
Another tweet from Puma quoted a second Mets player as saying that the arrested fan had said things that "can't be said walking through security at the airport."
Unfortunately, death threats and other forms of harassment coming via Twitter aren't restricted to this one case, by any means.
As reported by Yahoo Sports, Brandon Jacobs, running back for the US football team the New York Giants, recently tweeted a picture of a death threat sent to him and his family.
The New York Daily News reports that the matter was turned over to National Football League (NFL) Security.
The Twitter account holder who allegedly threatened Jacobs and his family later claimed he was just kidding – at first calling Jacobs a "ho" for retweeting his threats but then doing an about-face to beg for forgiveness.
It was a day late and a dollar short.
After all, nuance doesn't translate well online – particularly when it comes to death threats posted online in a public space.
Leroux, for his part, has been charged with threatening in the second degree and breach of peace. He's being held on a $2,500 bond and will be arraigned at Milford Superior Court.
Image of Home Run Apple on Mets Plaza in the front of Citi Field courtesy of Leonard Zhukovsky / Shutterstock.