Police officers in Manchester, UK have discovered a 3D printer which they initially believed criminals may have been using in an attempt to manufacture a gun.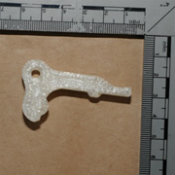 During a raid on a local property in Manchester's Baguley area on October 24, officers discovered what they thought was a trigger mechanism as well as another part that was originally identified as being a magazine capable of holding bullets.
The 'gun parts' were found alongside a 3D printer, leading to fears that those responsible may have been planning some sort of gun factory.
3D printers can by used to fabricate very intricate plastic objects, including knives and firearms.
Back in May, blueprints for the first ever gun that could be produced on a 3D printer – the Liberator – were downloaded over 100,000 times in the first 4 days after they were posted online. The U.S. State Department later ordered the website to remove the schematics because they could violate export regulations.
Following the raid and seizure of printed parts in Manchester one man was arrested on suspicion of creating gunpowder. He currently remains in custody for questioning.
Detective Inspector Chris Mossop, an officer from their Organised Crime Coordination Unit, is quoted on The Greater Manchester Police website explaining the significance of the find.
If what we have seized is proven to be viable components capable of constructing a genuine firearm, then it demonstrates that organised crime groups are acquiring technology that can be bought on the high street to produce the next generation of weapons.

In theory, the technology essentially allows offenders to produce their own guns in the privacy of their own home, which they can then supply to the criminal gangs who are causing such misery in our communities.

Because they are also plastic and can avoid X-ray detection, it makes them easy to conceal and smuggle.

These could be the next generation of firearms and a lot more work needs to be done to understand the technology and the scale of the problem.

If what we have seized today can, as we suspect, be used to make a genuine firearm then today will be an important milestone in the fight against this next generation of homemade weapons.
Further developments during the day, however, would suggest that what the police actually found was something less sinister entirely.
When Gigaom reported the story one of their users, Nuno Gato, was quick to suggest a plausible alternative purpose for the fabricated parts:
...just search mk8 on thingiverse.com and you will see that it's a upgrade part for a printer.
Searching further on thingiverse.com highlights an image of a filament spool holder which looks almost identical to the part that police had originally thought was a magazine.
PC Pro spoke to Scott Crawford, head of 3D printing firm Revolv3D, who instantly identified the parts seized by the police as upgrades for the 3D printer.
I instantly thought 'I know that part' ... I'm confident it's an upgrade for the printer and not an actual gun part."
Greater Manchester police released a second statement about five hours after their first that would suggest that by that time they were also having some doubts about what they found.
Clearly the fact we have seized a 3D printer and have intelligence about the possible production of a weapon using this technology is of concern. It is prudent we establish exactly what these parts can be used for and whether they pose any threat.

What this has also done is open up a wider debate about the emerging threat these next generation of weapons might pose.

The worrying thing is for me is that these printers can be used to make certain components of guns, while others can be legitimately ordered over the Internet without arousing suspicion. When put together, this could allow a person to construct a firearm in their own home.
Although it looks like this episode might have been an embarrassing false alarm the sensitivity of the police is perhaps understandable, particularly in a country like the UK which has extremely tight restrictions on firearms.
With printers already available to buy in the UK for around £1,000 and the cost of producing a Liberator estimated at around £16, 3D printing could yet prove to be a stealthy and affordable means for criminals to acquire lethal weapons.