The FBI has put out a wanted poster and Interpol has issued red notices looking for help in tracking down a gang of seven swindlers who allegedly ran a $3 million (£1.8m) scam, selling cars that were just figments of their very active imaginations.
The alleged crooks – six of whom are Romanian, one of whom is Albanian – have been indicted for selling fictional cars, motorcycles, boats, and other high-ticket items through sites including eBay, Cars.com, AutoTrader.com, and CycleTrader.com.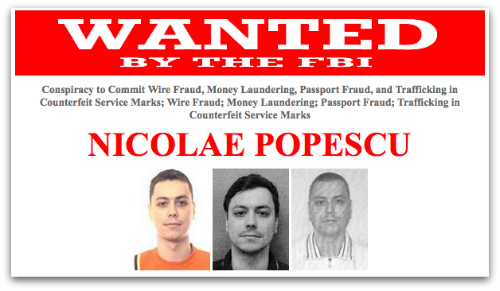 The man featured in the wanted poster is Nicolae Popescu, a 33-year-old Romanian the authorities say is the head of the gang.
According to a statement released by the United State Attorney's Office for the Eastern District of New York on 24 October, one of the indicted men was actually arrested in 2010 but evaded authorities when he walked out of a Romanian courthouse over a bureaucratic issue.
Wired reports that the man who walked out was Popescu himself.
He had been detained under a so-called preventive arrest.
Under Romanian law, defendants can be held for up to 29 days while an investigation is underway if authorities prove that they need to hold the suspect while evidence is examined.
But while the court was busy ruling on an extended arrest for the other suspects, Popescu was allowed to simply walk out of the courthouse. The deadline for his initial arrest had passed, and the court hadn't yet ruled on his extended detention, so he was free to go.
Besides Popescu, the authorities are also seeking fellow Romanians Daniel Alexe, Dmitru Daniel Bosogioiu, Ovidiu Cristea, and Dragomir Razvan. They're also hunting an Albanian national named Fabjan Meme.
Also listed in the indictment is a defendant who goes by the names "George Skyper" and "Tudor Barbu Lautaru."
The nonexistent merchandise was quite high-end, generally priced in the $10,000 to $45,000 range.
The ruses they allegedly pulled to sell the mirages were quite convincing.
The men allegedly employed helpers to correspond with targeted buyers by email, sending bogus certificates of title and other materials designed to peel money from their victims.
They also allegedly cooked up fictional auto dealerships in the US to sell their fictional cars, even creating phony websites for the purported dealerships.
The defendants also allegedly counterfeited high-quality passports that were used by co-conspirators in the US to open bank accounts in the country.
After the supposed auto sellers reached an agreement with their victims, they'd often email them invoices purporting to be from Amazon Payments, PayPal, or other online payment services, with instructions to transfer the money to the US bank accounts used by the defendants.
Authorities said that the alleged fraudsters and their accomplices also used counterfeit service marks on the invoices so that they appeared identical to those of legitimate payment services.
The funds were then withdrawn from the US bank accounts and sent to the accused men in Europe via wire transfer and other methods.
While the goods they allegedly sold were nonexistent, authorities say the gang put a chunk of the proceeds into very real, very high-end watches.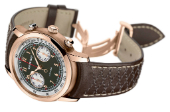 The indictment charges Popescu with directing Cristea to obtain and transfer luxury watches purchased using the illegal proceeds of the scheme, including three Audemars Piguet watches with a combined retail value of over $140,000, to his European associates.
Authorities say that the watches deal was only one of Popescu's responsibilities in leading the syndicate.
They say that he also hired and fired passport makers based on the quality of their work, supervised those responsible for placing the bogus ads and corresponding with victims, and ensured that the ill-gotten loot transferred to the US bank accounts was quickly collected and transferred to himself and others acting on his behalf in Europe.
According to Wired, the gang operated since at least 2006.
Wired also reports that police have identified about 800 victims who handed over money for non-existent Rolex watches, cars, yachts, private airplanes and other luxury goods.
According to the BBC, eBay put out a statement warning buyers from using wire services to send payments:
We have partnered with law enforcement to alert consumers about the type of scams described in the indictment - which involve exploiting well-known, trusted brand names like eBay to attract consumers and then lure them onto fake websites and into fraudulent transactions.
Auto shoppers can be confident in their purchase by ensuring they start and complete their transactions on eBay Motors and never use money wire services to send payments.
The indictment says that in a recorded conversation from 23 October 2011, Bosogioiu asked Popescu about the difference between US federal and state law, vowing to avoid the FBI.
But for whatever reason, the alleged fraudsters thought that Romania was too far away from the US for them to get into trouble.
Popescu, in a second recorded conversation, poo-poo'ed the idea of getting caught, saying that "criminals will not be extradited from Romania to U.S.A. . . . [I]t will never happen."
Can you just imagine what the Feds thought, listening in on that? I can practically hear FBI teeth gnashing.
Image of watch courtesy of Flickr user Kitchener.Lord