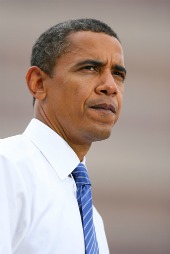 US President Barack Obama has initiated a review to make sure that the National Security Agency (NSA) is doing what it should be doing, as opposed to doing whatever it can do with its continues-to-amaze data-vacuuming capabilities.
The President briefly touched on what he called an ongoing, complete review in an interview with White House correspondent and ABC News senior national correspondent Jim Avila for "America With Jorge Ramos" on Monday afternoon.
He said:
We're undergoing a complete review of how our intelligence operates outside of the country.
As it is, the laws that supposedly protect what the US does internally tend to sag when they get shipped over the border, he said:
There are some very strict laws governing what we do internally.

And that was the initial concern brought about by some of the [whistleblower Edward] Snowden disclosures. Internationally, there are less constraints on how our intelligence teams operate.
On Sunday, the NSA found itself fidgeting in a diplomacy blow-out after revelations about its having intercepted personal mobile phone calls of German chancellor Angela Merkel.
The agency was forced to deny that its director had ever told Obama about it.
(Take that for what you will: An unnamed, high-ranking NSA official alleged that the president, "not only did not stop the operation, but he also ordered it to continue", according to reporting from the German newspaper Der Spiegel.)
Avila had asked the President how it is that he didn't know about the NSA listening in on cell phones of world leaders that are also the country's allies and just who, exactly, should have told him.
Obama answered by calling himself the ultimate end user of intelligence:
The national security operations, generally, have one purpose and that is to make sure the American people are safe and that I'm making good decisions. I'm the final user of all the intelligence that they gather.
Just four months ago, at a rally at the Berlin Wall – to which Merkel had invited him – the President said that the US's intelligence efforts hadn't run amok.
"Our current programs are bound by the rules of law," the President said at the time.
But the Snowden leaks are giving the country pause over whether, actually, technology advances have, well, allowed intelligence efforts to run amok, the President said:
It's important for us to make sure that as technology develops and expands and the capacity for intelligence gathering becomes a lot greater, that we make sure we're doing things in the right way [in a way that's] reflective of our values.
Image of President Obama courtesy of Shutterstock.