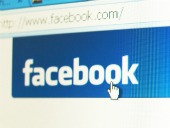 Facebook is testing data mining methods that would silently follow users' mouse movements to see not only where we click but even where we pause, where we hover and for how long.
And holy mackerel, did somebody say something about there being the potential ability to track how long a user's cursor hovers over an o-so-tasty, revenue-generating ad?
Why yes, and that somebody was Ken Rudin, Facebook's analytics chief.
At the Strata and Hadoop World Conference in New York on Tuesday, Rudin told the Wall Street Journal that the already data-stuffed social network would have to purchase data pants with a stretchy waistband if it does decide to gorge itself on data about users' cursor movements.
Rudin told the WSJ that the ongoing tests are part of a broader technology testing program.
Facebook should know in the coming months whether incorporating the new data collection makes sense for a slew of uses, be it product development or more precise targeting of ads, he said.
Facebook is looking at collecting data such as "did your cursor hover over that ad … and was the newsfeed in a viewable area," he said.
You well might question whether cursor tracking isn't in fact already a standard part of web analytics.
Back in 2011, Microsoft researchers looked at how to use cursor movement to understand and improve search results.
They came up with an easy way to track users' gaze direction on a website using nothing but a standard web browser and a practically imperceptible Javascript of less than 1kb that could be run invisibly on any page without slowing its load time or a browser's performance, as MIT Review described at the time.
It turns out that where we place our mouse cursor closely correlates with eye gaze – i.e., what we look at on pages – especially when looking at search results, the researchers found.
The researchers came up with (PDF) the ultralightweight gaze-tracking tool by examining mouse cursor behavior on search engine results pages, including not only clicks but also cursor movements and hovering over different page regions.
On page 5 of the Microsoft paper, images of heat maps of click positions vs. recorded cursor positions show that cursor movements provide far richer data about how frequently a user interacts with a given page.
Two years later, is Facebook ahead of the curve in planning cursor tracking, or is it playing catchup?
It turns out that Facebook well might be in the vanguard, given that advances in cursor tracking haven't yet replaced, to any extensive degree, simple maps such as those for Google Analytics that merely show where we've clicked on a page.
In fact, such click maps, typical of most website analytics, don't actually show where a user has clicked; rather, they show only which page the user ended up on and which links can go there.
Exceptions to the web analytics status quo of simple click maps include third-party services that do, in fact, offer cursor and hover tracking.
The WSJ reported on one such, Shutterstock, in March.
At the time, Shutterstock founder and CEO Jon Oringer said that his company – which is a marketplace for digital images – was looking at "every move a user makes," including where site visitors place their cursors and how long they hover over an image before making a purchase.
Rudin, being Facebook's data chief, is preparing the company's infrastructure for the massive data binge that would come out of such cursor/hover tracking.
But as Rudin himself pointed out, the deluge of information isn't going to help anybody unless Facebook can figure out how to make use of it:
Instead of a warehouse of data, you can end up with a junkyard of data.
He told the WSJ that he's led a project to index the data in Facebook's analytics warehouse, which is actually separate from its user data.
Javascript processing has relieved the strain on the browser for this type of tracking. Now, the only problem that remains is how to store and process all the resulting data.
What do you think: if Facebook does decide to collect the new behavioral data and actually does manage to to cinch its belt around its resulting bloated data belly, will users' privacy be that much more pinched?
Or have we already been chewed up and digested to the point that it really doesn't matter any more?
Let us know in the comments section below.
And not that we want to make you feel guilty or anything, but we think you should know that our feelings will be hurt unless you hover long and lovingly over everything posted on – where else? – Naked Security's Facebook page.