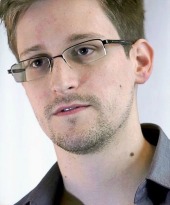 "To tell the truth is not a crime", Edward Snowden asserted in a piece titled "A Manifesto for the Truth" published by Der Spiegel on Sunday – the same day that the White House and elected officials scoffed at the NSA whistleblower's request for clemency.
The US government strenuously believes that telling the truth is a crime, at least in this case, wherein former National Security Agency contractor Snowden has repeatedly disclosed classified government documents about surveillance practices.
The chairwoman of the Senate Intelligence Committee, Dianne Feinstein, Democrat of California, and her House counterpart, Mike Rogers, Republican of Michigan, have both flatly rejected the notion that Snowden has made a case for clemency.
Feinstein said on the TV program 'Face the Nation' that instead of releasing documents to the Guardian and other newspapers, Snowden could have followed more orthodox methods of whistleblowing:
He was trusted; he stripped our system; he had an opportunity - if what he was, was a whistle-blower - to pick up the phone and call the House Intelligence Committee, the Senate Intelligence Committee, and say I have some information. … [But] that didn't happen.
Snowden's official request for clemency was released Friday when he gave a one-page typed letter to a German politician that was also reportedly sent to Der Spiegel over an encrypted channel.
In his appeal, Snowden says that his actions have been justified by the useful debate they've sparked over surveillance programs that are "not only a threat to privacy" but a threat to "freedom of speech and open societies."
He said:
Society can only understand and control these problems through an open, respectful and informed debate.
In fact, he said, the debate that governments wanted to prevent "will now take place in countries around the world."
Rather than doing harm, the benefits from a newly aware public is already bearing fruit, he said, in the form of proposed reforms that entail increased oversight and new legislation.
Indeed, Feinstein herself is among those who've questioned whether the NSA has overreached its mandate and whether reform might be in order, particularly in light of reports that the agency had long monitored the cellphone of German Chancellor Angela Merkel.
Feinstein said on Sunday that she's all for a White House review of intelligence operations and would like her committee to be the one to conduct it.
Tapping the private phones of close allies, she said, can be more of a political liability than a source of good intelligence, so "We ought to look at it carefully. I believe the president is doing that."
Federal prosecutors have charged Snowden – who's still in temporary asylum in Russia – with theft and with two violations of the Espionage Act of 1917.
In his manifesto, Snowden said he didn't believe that telling the truth should be considered a criminal offense:
Citizens have to fight suppression of information on matters of vital public importance. To tell the truth is not a crime.
What do you think? Is Snowden a whiner? Should he leave Russia and face the music?
Or do you think he should be lauded for shining a light into the dark corners of a spy agency that's been blinded by the power of its technology toys?
Let us know your thoughts: