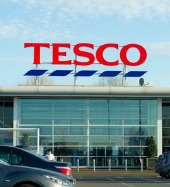 Tesco, the UK's largest supermarket chain, is set to install facial recognition technology in all 450 of its petrol station forecourts.
The face-scanning technology will be used to serve tailored advertisements to an estimated weekly audience of five million adults.
The company will install OptimEyes screens, developed by Lord Alan Sugar's Amscreen, in a five year deal according to The Grocer.
Amscreen says that the cameras, placed at the tills, are capable of collecting the following data:
Number of possible viewers (those people within the close vicinity of the screen)
Number of actual viewers (the true audience)
Gender (male/female)
Age class (with the age brackets being as follows):

Child : 0- 15 years old
Young adult: 15 – 35
Adult: 35 – 65
Senior: 65+
The system uses several different indicators to determine the sex and age of the customer. For instance, long hair would most likely indicate that the person in front of the camera was female but such an assumption could lead to several false positives. Therefore other key traits are accounted for in order to make a final decision.
Amscreen say the system has a detection rate of greater than 98% and that identification typically takes less than 0.2 seconds.
Once the system has identified the demographic group in front of the till it will then play suitable adverts of up to 10 seconds in length on a 100-second loop. I can already imagine large groups of party-goers swaying around at 2 am and being served adverts for coffee to help with their hangovers the next morning!
Simon Sugar, the chief executive of Amscreen and son of Lord Sugar, believes companies have a right not only to know how many people are viewing their adverts but also to know who they are:
It is time for a step-change in advertising – brands deserve to know not just an estimation of how many eyeballs are viewing their adverts, but who they are too.

Yes it's like something out of Minority Report, but this could change the face of British retail and our plans are to expand the screens into as many supermarkets as possible.
Peter Cattell, category director for Tesco petrol stations, also seems to see nothing but benefits with OptimEyes, saying:
The ability to tailor content based on time and location means it can be extremely useful and timely for our customers.
Most Naked Security readers already wake each morning to a world in which they are tracked all day long – CCTV cameras are everywhere; designed to 'protect us' from the bad guys and thus ensure that we can maintain the standard of life and 'freedom' we have now.
The 21st century is a period of time like no other: information is the new currency and we happily give it away to social media moguls, e-commerce web sites and just about anyone who asks, nicely or not.
Do we need to be far more choosy about the information we give out and somewhat more discerning about whom we give it to? Or am I, perhaps, a little paranoid?
I asked Nick Pickles, director of Big Brother Watch, for his views on the need for businesses to boost their profits versus the rights of their customers to retain a degree of privacy. In reply, he said:
There are two fundamental problems here; not least the fact that the only way you can ensure your face is not scanned is to not go into the shop. Firstly, should we really be increasing the amount of surveillance we're under so some companies can sell more advertising? Secondly, the technology isn't going to stay the same and always be used in the same way.

As businesses like Google collect vast amounts of data about us online and can target us with very specific adverts, the race is on to catch up tracking our offline lives. Loyalty cards were the start of the process, but as the race for data intensifies, the surveillance is becoming more intensive.

This won't stop at age and gender – the long game is about identifying individuals, and facial recognition technology is getting close to enabling them to do it.

Given the number of CCTV cameras across Britain that could be adapted to use this technology, the potential to track people in real-time is huge. Equally, the commercial temptation to expand the data being collected is clear – knowing which other shops someone goes in for example.
Pickles believes that the only way that such systems can be ethically employed is if consumers have the ability to opt into having their image scanned, rather than having no choice in the matter.
Are you happy to be scanned and advertised to by this technology or do you think it is yet another erosion of what little privacy we have left in society today? Let us know by leaving a comment below.
Image of Tesco courtesy of JuliusKielaitis / Shutterstock.com.