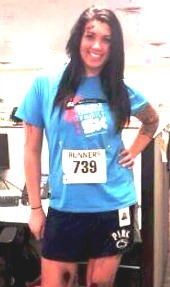 For Halloween, Alicia Ann Lynch, a 22-year-old US woman from Michigan, went to work dressed as a victim of the Boston Marathon bombings, clad in sneakers, running shorts, and a race number, splattered with fake blood.
Then, she tweeted and Instagrammed photos of herself.
The costume was, as she quickly admitted, tasteless.
The ensuing backlash, however, has been vicious.
BuzzFeed reached Ms. Lynch on the phone on Sunday.
She confirmed to the site that she has been fired and that both she and her family have received death threats:
I've had voicemails where they want to slit my throat and they want to hang me and tear off my face. … I'm just, like, 'I don't even know how to respond to this right now.'
Unfortunately, the infuriated online mob soon discovered that the young woman had once posted a photo of her driver's license.
The mob then used that information to further attack Lynch, promising to anonymously send excrement through the mail, contacting her family, and posting nude photos and videos, allegedly of her, that were taken from Tumblr.
The mob found and disseminated her parents' home phone number along with Ms. Lynch's home address. They also tracked down what they thought was her employer and her father's company.
Ms. Lynch told BuzzFeed that strangers reached out to her parents and told her best friend "they're going to blow up her house and hang her child."
Not all commenters were blood-crazed.
As BuzzFeed's replicated tweets show, some commenters tried to get the mob to calm down and back off:
@HanzBuhnanz:
@SomeSKANKinMI You guys, stop. Cyber bullying another human being is not going to undo her actions. She has apologized.
Hannah@HanzBuhnanz:
@SomeSKANKinMI As someone who ran the marathon, I know that violent, angry responses are exactly what fueled the bombings to begin with.
Ms. Lynch is maintaining a positive attitude, telling BuzzFeed that she made a mistake but has no fears about getting rehired if future employers Google her:
Yeah, I don't think I'll have an issue with that. ... It doesn't really bother me. ... I have nothing to hide. It happened, I made a mistake. I just have to learn from it. I'm not a terrible person.
As a Bostonian myself, and as somebody who has written up far too many (of course, even one would be too many) stories about cyber-bullied suicide victims, I side with the commenter who forgave Ms. Lynch:
@TheTwidster:
@SomeSKANKinMI As a Bostonian, I forgive you. I am glad that you have not killed yourself, and I seriously hope you learned your lesson.
I hope Ms. Lynch is right – I hope she can learn from this and move on.
Unfortunately, getting rehired won't necessarily be all that easy.
Research has uncovered a discrepancy between what young people think is OK to post online and the high percentage of recruiters – 69% – who report finding candidates whom they wouldn't let step through the door, thanks to social media evidence of drinking, drugs, bad-mouthing previous employers, lying on their resumes or a host of other sins.
Posting tawdry material online is career-threatening.
But posting an image of your driver's license and personal information is just not necessary and could be dangerous.
Don't do it, ever. Don't hand the mob the tools it needs to target you or your loved ones.
Image of jack-o-lantern courtesy of Shutterstock.