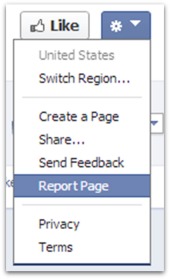 Facebook on Wednesday announced it's adding a button to all content that will enable bullying victims and their allies to anonymously report abuse, be it comments, photos, videos or other Facebook content, the social network said in a blog posting.
The Report links will appear next to the content.
To click on an abusive page, for example, users will be able to:
Go to the Page they want to report
Click the dropdown menu under the Page's cover
Select Report Page
The Report button is only one tool in Facebook's new Bullying Prevention Hub, created by Facebook engineers and its partners at the Yale Center for Emotional Intelligence.
Other tools will include recommendations for adults who want to help, Facebook said:
Today on Facebook, we encourage anyone who sees harassment or bullying to report it, and we even offer teens the ability to connect with a trusted adult to get help as part of our social reporting tool.

With the new Bullying Prevention Hub, we'll be arming bullying victims with information on what they can do when they see harassing content, recommendations to adults who want to help, and even guidance to the person accused of bullying on what he or she has done and how he or she can do better.
Facebook said that in putting such a tool at people's fingertips at the moment they need it most, it's the first time an internet company has integrated bullying prevention tools directly into a product.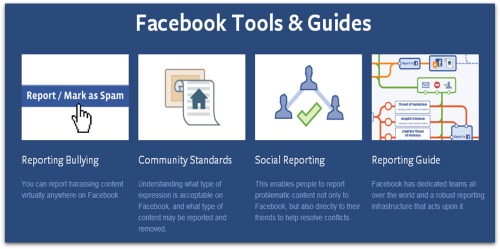 I sincerely hope that this tool does help bullying victims.
We should bear in mind that the Report button is bound to be abused, as well.
Critics of Nova Scotia's new Cyber-Safety Act – passed in the wake of the tragic death of bullied, allegedly gang-raped Rehtaeh Parsons – have pointed out that tools meant to help victims can also threaten the rights of free expression.
Hopefully, Facebook administrators will be able to effectively sift through abuse reports and weed out those that boil down to little more than censorship of content that a given user finds offensive for reasons other than it being actually abusive.
Instagram, Facebook's popular photo-sharing app and many young people's preferred place to hang out online, wasn't mentioned in the company's posting.
But that site – no stranger to abuse – already has its own instructions on reporting abusive content and spam.
For more tips on helping children and teens who might be cyber-bullied, check out Sophos' Top 10 tips to keep kids and teens safe online.