The old adage "If it sounds too good to be true, it probably is" still holds true online.
Even with the incredible sales upcoming in the US and Canada for Black Friday/Cyber Monday.
Here is a spam using one of the most desirable brands of this upcoming holiday season in a manner that is certainly too good to be true: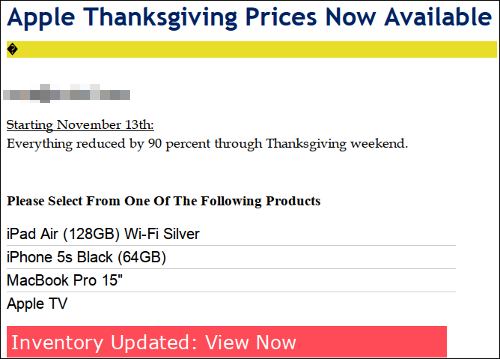 "Apple Thanksgiving Prices Now Available
Starting November 13th:
Everything reduced by 90 percent through Thanksgiving weekend
..."
Now, I'm no Apple fanboy, but at 90% off even I might be tempted to pick up a new MacBook Pro. As you likely already guessed, it's a scam.
Like most spam campaigns it will likely result in different web pages being displayed for users from different geographic locations.
The sites I was able to reach were chock full of Google Adwords in an attempt at revenue generation, but I didn't find anything malicious.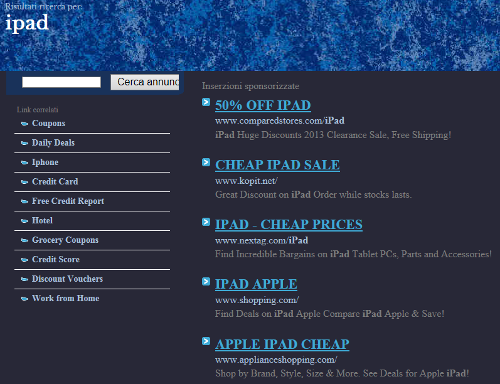 With the holiday season approaching we will likely continue to see spammers try to blur the lines between legitimate bargain prices and scams.
Also a good time to remember that your local postal service (e.g. USPS, Royal Mail and Canada Post) or delivery company (e.g. UPS, FedEx and DHL) are not going to email you asking you to open attachments.
Most of these messages are delivering banking Trojans like Zeus (ZBot) which in turn are further infecting victims with Cryptolocker ransomware.
We all know what not to do:
Don't click links in emails.
Don't open attachments you aren't expecting.
Don't believe online promotions that are too good to be true.