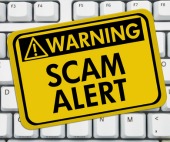 The popularity of online shopping continues to grow every year as cash-strapped consumers discover the savings that can be made in comparison to traditional brick and mortar retailers.
At this time of year, as we search for Cyber Monday bargains and prepare for Christmas, it is also rather tempting to enjoy the comfort of shopping from our own homes and not have to battle the seasonal queues.
But shopping on the web is not always a perfect experience as many consumers discover to their cost.
Last Christmas, for example, shoppers in the UK lost over £12m, according to Action Fraud, the City of London Police and Get Safe Online who are warning consumers to take extra care when shopping for tablets, games consoles, electrical items and other gifts online.
Tony Neate, CEO of Get Safe Online said:
£12.4m is a huge amount of money to be lost to online fraud but unfortunately, it's the type of figure I see every year. The problem is, scams change and adapt as trends come and go. They have also become more sophisticated as we get wiser to what is and isn't legitimate so it's understandable that people sometimes get caught out.
Action Fraud, run by a government agency known as the National Fraud Authority, received more than 10,000 reports of online fraud and auction site scams over the Christmas period. On average, the victims of these crimes lost over £1,700 each.
One of the reasons why so many people were duped last year may have been the fact that the fraudsters were well aware of which items were going to be popular. Rip-offs and scams centred on smartphones, games consoles, Apple products and items of designer clothing.
Other gift ideas such as jewellery, watches and precious metals were also used as bait in various online cons.
This year the list of popular gift ideas is likely to be very similar and so shoppers should be extra vigilant when considering buying any of the above. Particular attention should probably be given to the next gen consoles that have just been announced – the PS4 and Xbox One are both in short supply and in huge demand which will surely be a combination that online fraudsters will find hard to resist.
So, what can you do to ensure that you are not a victim at this time of year?
Action Fraud, Get Safe Online and the City of London Police have listed out ten tips:
1. Trust your instincts – if an offer looks too good to be true it usually is. Legitimate popular technology and designer items are rarely discounted.
2. Check the URL in the web browser. Don't be fooled by spoof websites where the address is slightly different.
A while back we deliberately misspelled the addresses of many popular websites to see what we'd find. Watch the video below, or view it on YouTube here.
(Enjoy this video? You can check out more on the SophosLabs YouTube channel and subscribe if you like)
3. Ensure the website address begins 'https' at the payment stage – this indicates a secure payment.
4. Don't access links in unsolicited emails, always type in the website address or use a search engine to find a site.
5. Only deal with reputable sellers – only use sites you know or ones that have been recommended to you.
6. Avoid paying by money transfers direct to people you don't know. Use an online payment option such as PayPal, which helps to protect you.
7. Watch out for pop-ups appearing asking you to confirm your card details before you are on the payment stage. Never enter your PIN number online.
8. If your bid for an online auction item is unsuccessful, don't be tempted to trade off-site if another seller approaches you with a similar item. This is likely to be a scam and you won't be covered.
9. Keep security software and firewalls up-to-date. Regularly update your internet browser when a new patch (security update) is released.
10. Keep receipts and check these against your statement – if you spot a transaction you did not authorise speak to your card company immediately.
Security Minister James Brokenshire said that although the UK government is working to reduce online crime, the public need to play their part in ensuring they don't fall victim to festive scams:
We are taking the fight to cyber criminals with the newly created National Cyber Crime Unit, which is part of the National Crime Agency.

But the public should also stay vigilant to ensure they don't lose their hard-earned money on fakes and frauds. Following straightforward steps while shopping online will help the public to avoid cyber fraudsters.

Shoppers can find great bargains online ahead of Christmas and this time of year provides a welcome boost to retailers. But shoppers should remember if something looks too good to be true it often is.
By following the tips above you can minimise the risk of becoming an online fraud victim but if you, or anyone you know, has fallen for any type of online con you can report the matter to Action Fraud in the UK, or if you're in the US you can find out who to report the crime to on the Department of Justice website.
Looking ahead to January, the Government will be taking steps to increase online confidence amongst members of the public as well as small and medium-sized businesses. The campaign, designed to help organisations and individuals make simple changes to their online behaviour, will be funded and supported by private sector partners including Sophos whose CFO, Nick Bray, commented:
As the UK's leading cyber security company, we are both delighted and proud to support the government in this and other cyber security initiatives. Improving cyber security is a national imperative and Sophos is committed to working with both government and industry to ensure this happens.
Image of scam alert courtesy of Shutterstock.