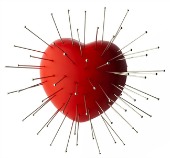 A 27-year-old man based in San Diego, California, faces prison after being charged with 31 felonies related to the publication of 10,000 explicit photographs sent in by the victims' ex-partners.
Kevin Bollaert was arrested today for running 'revenge porn' website ugotposted.com and is currently being held in prison on $50,000 bail.
In a press release, Kamala D. Harris, California's Attorney General, said:
This website published intimate photos of unsuspecting victims and turned their public humiliation and betrayal into a commodity with the potential to devastate lives. Online predators that profit from the extortion of private photos will be investigated and prosecuted for this reprehensible and illegal internet activity.
Prosecutors allege that Bollaert was running the revenge site, which has now been taken down, in conjunction with another site called changemyreputation.com.
The Attorney General's office alleges that when Bollaert received complaints on the main website, he would then send an email directing victims to changemyreputation.com where they would be directed to pay a fee of between $299 and $350 in order to have their photos removed.
According to court documents Bollaert allegedly told investigators that he received around $900 per month in advertising revenue from the site.
PayPal records indicate that changemyreputation.com received payments totalling tens of thousands of dollars.
Unlike other revenge porn sites where photos are published anonymously, those who found their very personal images features on ugotposted.com had even more reason to get their saucy pics removed from Bollaert's site.
According to the Attorney General, ugotposted.com required that any images posted on the site were accompanied by the subject's full name, age, location and even a link to their Facebook profile.
According to the arrest warrant, the victims, who all appear to be female, were unsurprisingly upset that their photos and personal details had been published on ugotposted.
Legal Analyst Victoria Terry related the case of Jane Doe #6 who said that an unknown person had illegally obtained access to her email account and found nude images she had saved there.
The Jane Doe also claimed that her Facebook account was illegally accessed and that the photographs were sent to her relatives. She also claimed that her passwords for Facebook, AOL and Gmail were changed.
Far more concerning, however, is the fact that she claims that the photos, published on ugotposted without her knowledge or consent, may have been taken when she was still a minor.
A search warrant executed on ugotposted's gmail account allowed investigators to retrieve messages sent by many alleged victims, including Jane Doe #6 who wrote:
PLEASE HELP! I am scared for my life! People are calling my work place and they obtained that information through this site! I did not give permission for anyone to put up those pictures or my personal information. I have contacted the police but these pictures need to come down! Please!
All in all, investigators discovered that over 2,000 emails had been sent to the yougotposted email account with around 50% of the messages containing the word "remove" in them.
Victims often struggle to prosecute those behind the likes of ugostposted.com, labelled 'revenge porn' sites because content is more often than not uploaded by jilted ex-lovers.
This is because, in the US at least, those who run the sites can sometimes claim protection under Section 230 of the Communications Decency Act which gives site owners a legal get out in respect of user-submitted content.
Bolleart's alleged mistake in this respect was that he crossed the lines of state laws against identity theft which prohibit the posting of personally identifying information "for any unlawful purpose, including with the intent to annoy or harass."
In a meeting with Brian Cardwell, Bollaert stated that he had now shut the site down voluntarily, saying that:
At the beginning, it was fun and entertaining, but now it's just like ruining my life.
Perhaps realising that ugostposted.com had left victims feeling much the same, albeit minus the fun and entertainment, he said:
Yeah, I realize like this is not a good situation. I feel bad about the whole thing and like I just don't want to do it anymore. I mean I know a lot of people are getting screwed over like on the site. Like their lives are getting ruined.
Image of heart courtesy of Shutterstock.