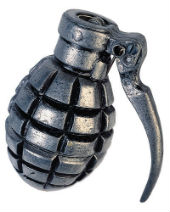 Specialist explosives officers in the UK removed what they suspected was a live hand grenade in a Tuesday morning raid on what detectives believe is an organized ring of cyber-criminals.
Detectives from London's Met cybercrime unit busted four people on suspicion that they were involved in planting malware that siphoned £1 million out of two UK banks.
According to The Guardian, besides the grenade, detectives seized £80,000 ($130,608) and a Range Rover following raids on addresses in the north London boroughs of Enfield and Islington.
They also seized computers, smartphones and other media devices, and luxury goods, including designer jewellery.
Two 31-year-old men, a 27-year-old woman and a 24-year-old woman were arrested on suspicion of conspiracy to defraud, conspiracy to launder money and possession of an explosive.
The raid, carried out by detectives from the Metropolitan Police's new Cyber Crime Unit (MPCCU), was launched following an investigation into malicious malware that a number of bank customers inadvertently downloaded by opening emails posing as bank communications.
Thieves drained bank customers' accounts of £1 million, which was then transferred to a series of other accounts for money-laundering and eventual cash withdrawal.
The Guardian quoted DCI Jason Tunn of the MPCCU as saying that beyond the four suspects lies a more extensive criminal ring:
These arrests by the Met's cybercrime unit follow an investigation into what we suspect is an international and organised crime targeting a number of bank customers in London and across the UK. The victims have been hoodwinked by malware-carrying emails purporting to be from their banks, and subsequently had money taken from their accounts.
As of Wednesday, the male suspects were in custody at a central-London police station. The women were free on bail and set to return on a date early next year.
Police have served restraint requests to several banks seeking to freeze a number of accounts linked to the investigation.
Image of hand grenade courtesy of nighthawk101 on deviantart.com