User outrage has forced Twitter to roll back a blocking policy change that would have allowed blocked users to continue to follow their targets, oblivious to the fact that they'd been blocked as they continued to interact with blockers' Tweets, receive their timeline updates, and thereby, critics said, enable blocked users' friends to continue harassment of victims.
Twitter had rolled out what was to be the short-lived policy change on Thursday.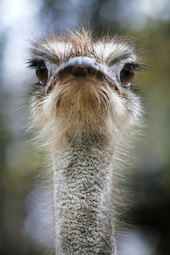 The change turned the blocking feature into an ostrich's head stuck in the sand (Ostriches don't actually stick their heads in the sand. We need a better metaphor).
A blocked abuser could still see everything a Twitter user did, but the Twitter user wouldn't see any of the blocked user's activity – in essence, changing the "block" into a "mute".
Twitter explained that the new policy was actually meant to help people from being trolled by people they'd blocked, given that upset blockees often troll the blocker in other, often aggressive, ways.
A large, vocal number of troll victims and others did not, however, see the policy change as being helpful – in fact, quite the opposite.
An online petition requesting a reversal of the blocking policy change went up on Thursday.
Within less than an hour, the petition had garnered nearly 600 signatures, according to CNET.
A common thread in signatories' comments has been that the change empowered stalkers whose activity was then hidden from potential victims.
From the petition summary, written by Zerlina Maxwell:
Twitter is no longer a safe space. As a public person who uses the medium for my work, I am very concerned because stalkers and abusers will now be able to keep tabs on their victims, and while there was no way to prevent it 100% before, Twitter should not be in the business of making it easier to stalk someone.

Previously, Maxwell noted, blocking a harasser or troll would forbid a given offender from following the blocker and would also remove them from the blocker's mentions and timeline.
The change was a "huge and very serious problem" for people like Maxwell, she wrote, who've received repeated rape and death threats on Twitter.
Twitter pointed out that it had always been possible for anyone – even someone who was blocked – to see the tweets on a public profile.
But at least the classic "block" kept harassers from following victims and, at worst, retweeting them into their feed, which would allow abusers' followers to also harass victims.
It is this classic block that Twitter has now re-embraced because of the outcry.
Twitter vice president of product, Michael Sippey, announced in a blog post on Friday that the company was reversing the change:
We have decided to revert the change after receiving feedback from many users - we never want to introduce features at the cost of users feeling less safe.
Users will once again be able to tell that they've been blocked, Sippey said: not an ideal situation, given the retaliation by blockees and their friends that often occurs:
Some users worry just as much about post-blocking retaliation as they do about pre-blocking abuse.
This is not the first time that Twitter's been taken to task over cyberbullying issues.
In July, following a vicious outpouring of trollery against UK journalist and feminist leader Caroline Criado-Perez and MP Stella Creasy, an online petition demanded that Twitter put a "Report Abuse" button on all messages.
In short order, Twitter complied, promising to roll out a new report abuse button, as well as to make it easier in other ways for people to report online bullying.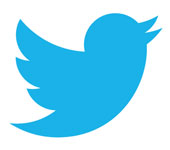 Twitter has a very good reputation for protecting its users against unreasonable privacy inquisitions by the courts, but it doesn't have a stellar record when it comes to dealing with cyber-bullying.
At the very least, though, you have to give the company credit: it sometimes does pay attention, and respond quickly, to users when they cry out loud and fast in online petitions.
If you're a tweeter then you might be curious to learn about another new feature rolled-out last week that will allow Twitter to track the websites that you visit.
Image of ostrich courtesy of Shutterstock.