Parents who have a Mac in their household can also employ parental controls to help keep their children safe.
Turning on parental controls will allow you to monitor what your kids are up to and manage the websites they can visit, the amount of time they spend on the Mac and, also, who they can talk to.
To get started under the latest OS X operating system – Mavericks – you will need to ensure that you have first set up an account which supports parental controls.
On a shared computer, and especially one used by children, it's important for everyone to have their own user account and login. This offers greater control for you over what your children can do, it separates them from anything potentially unsuitable that's on your account and also prevents them from accidentally damaging anything of yours.
1. Open your Users & Groups preferences, and select a user.
2. Tick the box marked Enable Parental Controls.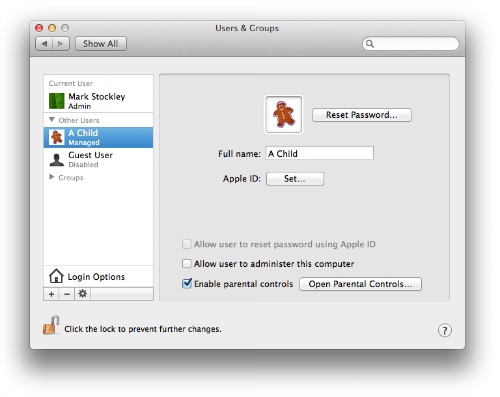 3. Select Open Parental Controls and click on the lock icon to unlock it. You will be prompted to enter your administrator name and password and then you can select your child's account from all of those available.
4. Click Enable Parental Controls. You will now see see some tabs at the top of the screen from where you will be able to set the controls that you feel are appropriate for your child.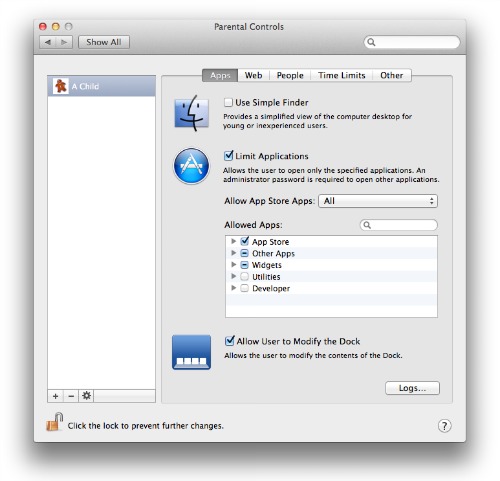 The Apps tab will allow you to choose which apps your child can access. You can also set an app rating in order to control the type of apps that can be downloaded from this account.
Under the Web tab you can choose to allow your child full web access or you may limit access to certain sites.
The People tab is useful should you wish to limit who your child can contact. You can limit their contact through email, Messages and the Game Center.
Time Limits, as the name would suggest, is for restricting use of the Mac. Limits can be set based upon the day of the week as well the time of day.
Lastly, the Other tab allows parents to control several factors, including the ability to burn discs, block the use of the in-built camera and hide swear words in the dictionary.
Find instructions for parental controls for other operating systems here.