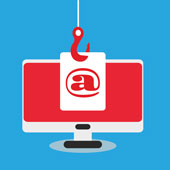 A man who stole hundreds of thousands of pounds from UK students has been jailed for three years and nine months.
Nigerian Olajide Onikoyi, 29, of Blackley, Manchester, was one of many criminals who tricked students via a phishing campaign. Victims received emails prompting them to visit a student loans website but, as I am sure you have already guessed, that website was a fake.
When students visited the bogus site they were invited to update various details which, presumably, included bank details as Onikoyi was then able to access accounts and make large withdrawals.
In total, he stole close to £400,000 from 238 students, with one having £19,000 taken from their account.
When Onikoyi appeared before Southwark Crown Court on Friday he admitted conspiracy to defraud UK financial organisations out of £393,000 which earned him a three year custodial sentence. He also pleaded guilty to a charge of money laundering which earned him a further nine months in jail, set to run consecutively with his other sentence.
During the investigation process police had worked closely with internet service providers, financial institutions and the Students Loan Company whose fraud prevention and detection manager, Heather Laing, said:
All students should be alert to these scams and remain vigilant to attempts to defraud them and steal their funds, particularly around payment times.

It is absolutely vital for students to protect themselves and their finances by keeping personal and account information safe. We will never request a customer to provide or confirm their account or banking details by email or text.

This case and the sentence received has sent a clear message that the courts take fraud against the taxpayer very seriously.

Once we identified the extent of the fraud and alerted the police to the issue, they worked with the wider financial community to investigate further, resulting in the sentencing.
As part of its inquiries, police from the now-defunct Metropolitan police central e-crime unit seized computer equipment belonging to Onikoyi.
On examination they discovered chat log evidence which proved that he had conspired with other individuals in the UK, Russia and Lithuania in order to compromise computers and bank accounts.
Detective chief inspector Jason Tunn of the Metropolitan police's new cyber crime unit said,
My officers worked doggedly to secure Onikoyi's conviction. They examined numerous leads to identify members of this phishing gang, of which Onikoyi was a key member.

He played a significant role in the scam by systematically targeting British students and UK financial institutions in order to steal large amounts of money that were then dispersed across numerous bank accounts.

We've had a number of bank accounts and properties connected to Onikoyi restrained under the Proceeds of Crime Act. This is now subject to a financial investigation.
A number of other cyber criminals have also been jailed recently over the scam which saw UK students defrauded out of a total of £1.5m.
In July last year Damola Clement Olatunji was jailed for a total of six and a half years for money laundering and conspiracy to defraud the Student Loan Company and Halifax Bank.
In February of this year Christopher Inokwere received a sentence of three and a half years for conspiracy to defraud UK banks and their customers.
Earlier this month Ruth Smith-Ajala was sentenced to five years of imprisonment for conspiracy to defraud.
A further five individuals were arrested as part of the investigation. Of those, four have been released with no further action planned and one is scheduled for a plea and case management hearing later this month.
Image of phishing courtesy of Shutterstock.