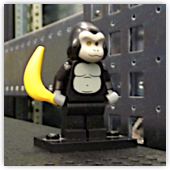 Do you let strangers wander round your server room?
Do you let them take detailed photographs as they go?
Do you let them publish those photographs afterwards, even for their own commercial benefit?
Thought not.
On the other hand, perhaps it doesn't matter if you do all of those things.
After all, relying too much on security through obscurity – for example when you rely on trade secrecy rather than strong cryptography to protect an asset – has always been a risk.
Let's hope it doesn't matter for CERN, the European Organization for Nuclear Research that straddles the French/Swiss border.
(The C in the acronym was retained when it changed from a Conseil to an Organisation nearly 60 years ago, on the grounds that OERN sounded, well, a lot less hip.)
Ironically, CERN is probably as well-known amongst geeks for being the place where the World Wide Web was invented as it is for being the home of the Large Hadron Collider (LHC), a 27km-long circular tunnel used for smashing together sub-atomic particles.
Because they can!
Anyway, in the same spirit of research openness that led to the Web, CERN has let Google Street View – on foot, or with some kind of hand cart, one assumes, rather than in a car or on a bicycle – into its server farm.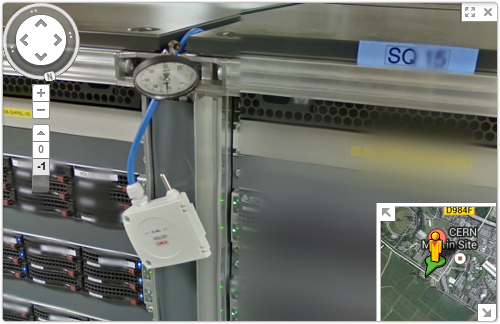 YOU ARE IN A MAZE OF SERVERS, ALL ALIKE. 
A TEMPERATURE SENSOR 
DANGLES DUBIOUSLY FROM ABOVE. 
EXITS LEAD: EAST, WEST

> read temperature

THE TEMPERATURE IS 296 KELVIN

> go west

YOU ARE IN A MAZE OF SERVERS, ALL ALIKE. 
SOME OF THE SERVER NAMES ARE OBSCURED. 
SOME ARE NOT.
LOOKS LIKE GOOGLE'S BLURRING ALGORITHM
NEEDS SOME WORK.
EXITS LEAD: EAST, WEST

> go west

YOU ARE IN A MAZE OF SERVERS, ALL ALIKE. 
A PLASTIC MONKEY IS HOLDING A 
LUDICROUSLY OUT OF SCALE BANANA. 

EXITS LEAD: EAST, WEST

> take banana

THE MONKEY WILL NOT LET GO OF THE BANANA.

> take monkey

YOU CAN'T DO THAT.

> take screenshot

TAKEN.

There really is a monkey holding a giant bananarang, or perhaps it's a boomerana, on one of the server racks, along with 19 other LEGO figures scattered around the place where Street View recorded them for posterity.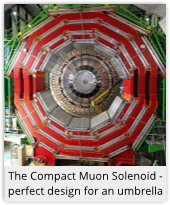 Find any three of them, send in screenshots, and you could win an item of modest value from CERN's gift catalogue.
You could go for a CERN-branded USB stick, for example, or my personal favourite, an umbrella featuring an image of the Compact Muon Solenoid, one of the particle detectors installed into the LHC to help find interesting subatomic stuff.
(I assume it is the muons that are compact, not the solenoid itself, which is 25m long, 15m in diameter and has a mass of 12,500,000kg.)
Monkeys wielding giant fruits, in the server room, over the holiday season!
You know it makes sense!