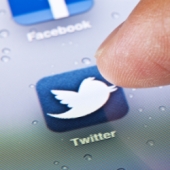 Twas the week before Christmas, when all through Tweetland, London saw some odd hashtags, sent out from spam brands.
According to the Guardian, Londoners awoke on Friday morning to find their automatically generated trending topics lists stuffed with sexy tags.
Namely, spammers used Twitter algorithms to their advantage in order to flood the site with the hashtags #escort, #massage and #adultprofile, the Guardian reports.
As of Saturday, the pre-holiday hijinx had apparently run their course, with trending topics in London having reverted to plain old non-sexy themes.
The Guardian pointed to a post by Twitter CEO Dick Costolo, who had previously admitted that offensive topics such as #reasons…beat…girlfriend are edited from the trending list.
Twitter explains that trends are determined by an algorithm and are tailored for users based on whom they follow and their location.
The algorithm lives in the "now": topics that are immediately popular, rather than topics that have been popular for a while or on a daily basis, rise to the surface, so that hot, emerging topics of discussion bubble up.
Hot, indeed, given these particular hashtags.
The Guardian reports that spammers took advantage of the algorithm by cluster-tweeting from new accounts in rapid succession.
At the time the Guardian posted its writeup, the hashtags #escort, #adultprofile, and #massages were still trending after at least 4 hours on the top ten list.
Those topics eventually must have lost their "breaking news" status, the news outlet suggested.
#HappyFestivus, and hopefully you didn't #clicksexylinks@work and thereby #getintrouble!