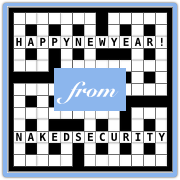 Are you working over the New Year?
Or are you relaxing?
Or are you doing a little bit of both?
Whatever you're up to, but especially if you're on year-end sysadmin or tech support duty while everyone else is at the beach/snow/pub, here's a bit of fun that nevertheless counts as real work. (But don't quote us on that!)
Presenting the Sophos Naked Security NYE crossword for 2013.

We're offering two prizes, just to add a tiny competitive edge to things.
There's a T-shirt for the for the first correct solution received, and a T-shirt for a randomly selected winner from the rest of the correct answers received before the end of 2014-01-05Z.
→ If you're not familiar with RFC 3339 (Date and Time on the Internet: Timestamps), that means you have until the last second of the coming Sunday, 05 January 2014, UK time, to get in the running for a shirt.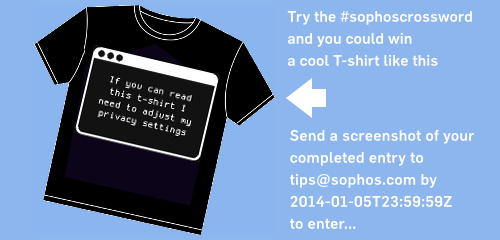 If you get stuck, try a search engine; if you're still stuck after that, try following and asking around on the hashtag #sophoscrossword on Twitter.
You are also welcome to email us for hints on tips@sophos.com if you don't use Twitter, or if you simply want to keep your hints to yourself.
To go into the prize draw, just take a screenshot when you have finished the puzzle, and email it to us.
We'll only use your email address to contact you if you win.
Good luck with your puzzling, and, from the Naked Security team, Happy New Year!