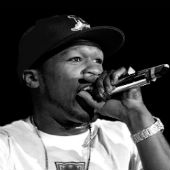 A New York judge on Thursday ruled that a Florida woman could sue rapper 50 Cent for posting onto his website a sex video that showed the woman's face.
50 Cent, aka Curtis James Jackson III, was sued by the woman, Lastonia Leviston, in 2010 for emotional distress.
The X-rated video featured the woman having sex with Maurice Murray, her former boyfriend.
Leviston is the mother of a child fathered by one of 50 Cent's rivals, Rick Ross.
According to the New York Post, 50 Cent allegedly purchased the homemade porn from Murray, although Leviston claims Murray had promised to destroy the footage.
The rapper then edited himself into the footage as a wig-wearing narrator named Pimpin' Curly.
Murray's face was blurred out, but Leviston's was not.
50 Cent says he wasn't responsible for the video's 2009 release, according to Fox News, but says it was legally fair to use the images.
The rapper's site gets millions of views. The video was also picked up by multiple sites and viewed almost 4 million times, according to the New York Post.
Leviston charged that the publicity caused her to suffer major depression and anxiety and nearly drove her to suicide.
50 Cent had tried to get the case dismissed by arguing that she was bluffing, given that she was still able to get her high school equivalency diploma and hold down two jobs after the video was posted.
But Manhattan Judge Paul Wooten wrote in his decision that Leviston's diary could lead to other conclusions, according to news outlets that viewed the court papers.
From the judge's decision, as transcribed by the New York Post:
[Leviston's diary] reveals that Leviston entertained suicidal ideation as a result of the release of the video tape, and that she was unable to function normally in her daily life.
In the video, 50 Cent called Leviston a "call girl" named Brooke. In her suit, Leviston denied being a prostitute.
The court papers quote the rapper as saying that his sole motive was to respond to Ross "disrespecting" him.
In rebuffing 50 Cent's attempt to get the suit dismissed, Wooten wrote that it's up to a jury to decide whether Leviston's suffering was "genuine and extreme."
Image of 50 Cent courtesy of Wikimedia Commons.