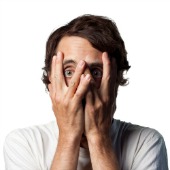 The real world is about to become a much more stalker-friendly place.
The makers of a new app, "NameTag," say that their facial-recognition software is actually supposed to make the world a much more connected place, but given that the app can spot a face and wirelessly match it up to social media profiles, all without giving people the option to opt out, let's go with stalker-friendly.
According to the app's developer, FacialNetwork.com:
NameTag links your face to a single, unified online presence that includes your contact information, social media profiles, interests, hobbies and passions and anything else you want to share with the world.
But wait, you say – I can choose not to share my intimate details with every Glass-wearing and smartphone-wielding creep I meet, so what's the big deal?
Yes, the app's users can do that, but the rest of us are apparently sitting ducks.
The reason there's no opt-out or opt-in is going to sound familiar to those who've read about other stalker-enabling apps such as Girls Around Me.
Namely, NameTag is drawing on publicly available information.
According to spokeswoman Jordan McGee, NameTag is going to function like a real-time online search that's triggered by facial recognition, cross-referencing information across the web and compiling it into one profile that's presented to smartphone app users or Glass wearers – sometimes known as Glassholes.
Compiling publicly available information will present users with an instant read of whether the person they're ogling is single, for example, along with whatever embarrassing things they've written (or photos they've posted) on Facebook, Twitter, Imgur, Pinterest or other social media sites, she said.
As long as it's been made public, it's fair game.
FacialNetwork.com's Kevin Alan Tussy told me that phone numbers and addresses won't be displayed. At first, I thought he meant that when the app eyeballs a pretty woman on the street, her phone number and address wouldn't be shown, even if publicly available.
But that led me to wonder whether the same privacy protection would be given to other intimate personal data, such as income, political affiliation, sexual orientation or the like.
He said:
We will never display those things unless a person specifically wants us to. Most of those won't even have designated fields in our database. For example, if you want to show your income, you would have to type in the open notes field.
Unfortunately, it sounds as if the only way to control sensitive information is to join NameTag and create your own profile. The theoretical woman in the street, if she's made her phone number or address public anywhere online, won't be afforded that privacy control, in spite of never having opted in to this service.
Is this really the best way to handle privacy? To force the public to know about every startup that comes onto the scene, to join every one of them, to create their own profiles, and to then suppress that information, all manually, all on a site by site basis, service by service, startup by startup?
Yoinks. One would imagine not.
FacialNetwork.com is also working to allow the scanning of profile photos from dating sites such as PlentyOfFish.com, OkCupid.com and Match.com.
But wait. Online dating profiles are private. You need a password to access the profiles that contain the photos. How will NameTag get around that?
It won't, but its users will.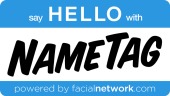 Tussy said that users will be able to copy a photo from a dating site profile and then paste it into the app's site to conduct an image search – similar to what people might do with an image search on Google.
The app is currently in beta for Google Glass users, and will soon be released as an app for iOS and Android.
Tussy said in a news release that "Making Real-Time Facial Recognition work on Glass hasn't been easy," but the developers managed it – all in spite of Google having announced that it's not yet supporting facial recognition for Glass.
Undoubtedly, the developer said, this reticence is "due to pressure from privacy groups", but FacialNetwork.com thinks that Google will eventually reconsider after it sees the "vast societal benefits" afforded by NameTag.
There are extremely good reasons for Google not to support facial recognition. What would make Google ignore the input from privacy groups and change its mind on this issue, I asked?
Tussy's reply:
We bring Google+, Facebook, Twitter and all the other sites into real life social interactions, and we see that as the biggest reason for them to support us. NameTag has been created with a great respect for privacy and it is a tool that will greatly benefit our society and the lives of individuals. Our largest concern for our apps, especially our mobile apps, is balancing privacy with our new technology. We believe that we have found that balance and that Google and other mobile device providers will see that and allow us to officially utilize their platforms.
As far as I can tell, NameTag is balancing privacy and technology by giving its users the ability to control what information is displayed about them. The rest of us are left to our own resources and our own vigilance with regard to our images and our personal data.
So, use this as another excuse to check your privacy settings on all your social networks, and, as always, keep intimate photos and personal data as closely buttoned up as possible so that you're not letting apps that feed on publicly available data gorge themselves on yours.
Image of hidden face courtesy of Shutterstock.