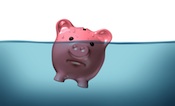 We already know that social media missteps can, say, bury our chances for getting hired or get us arrested if we brag on Facebook or Twitter about what bad-ass burglars we are.
Hang tight: there's actually a whole new world of d'oh! opening up.
As the Wall Street Journal reports, our Facebook friends, our Twitter musings, our eBay or PayPal accounts, our cookies, our browser behavior, and/or our smartphone use are increasingly being used by financial services outfits that are using our online selves to figure out whether they should loan us money or extend our existing credit lines.
The WSJ's Stephanie Armour writes that the horrifically embarrassing things some of us stumble into posting include financial details that could get our credit applications denied, such as whether the job information we put on our loan applications match what we posted on LinkedIn, or whether we posted about our employers firing us.
Small businesses, for their part, may well be turned down for more credit if they get lousy reviews on eBay, lending companies told the WSJ.
At this point, it seems that many such institutions are giving customers the social-media once-over on an opt-in basis, often using the information as one more way to get credit to borrowers who might otherwise have difficulty getting a loan, though banking experts predict that it's likely to become more pervasive and less opt-in than that.
For example, at one such business, the mobile-only bank Moven, customers can opt to link up their Facebook, LinkedIn, and/or Twitter accounts to learn about their own financial behavior and make payments to friends.
Moven is planning to offer loans, and customers' activity on social media will be one factor in making those underwriting decisions, the bank's president, Alex Sion, told the WSJ, noting that you can get a much better read on creditworthiness that way:
The data we have on customers via social networks says more about them than their FICO [credit-score rating]. … You can make credit decisions based not on a faceless score, but on who you know.
That "who you know" is quite literal, as in, the information provided by your social networks.
Sasha Orloff, the co-founder and chief executive at another startup, Flurish Inc. (better known as LendUp), says that analysis of a loan applicant's ties to his or her community can be quite illuminating:
It's one of the tools we use to do underwriting. … Do you have 4,000 friends but none are that close, or do you have 30 people but they're very close? There are ways to measure how engaged and how strong your community ties are.
Beyond what your network of friends says about you, though, some financial services firms are even assessing what type of phone you're using.
One example the WSJ highlighted: Kreditech, a microloan provider based in Germany, which has been using such data to assess creditworthiness in the 250,000 loan applications it's processed since it launched in 2012.
Spokesman Laurent Schuller, as quoted by the newspaper:
Is someone using an expensive mobile phone like an iPhone or logging in from a Web cafe? Is their network on Facebook just drinking buddies from a bar? All of that can be important information.
Small businesses are also being put under the online microscope when they look for loans. Kabbage customers are required to link at least one of their Amazon, eBay, Xero and other e-commerce or accounting sites to assess creditworthiness.
When making loan decisions, Kabbage takes under consideration small businesses' Facebook and Twitter presences, picking up on the dirt customers dish out about the borrower's business and the quality of its customer service.
Victoria Treyger, Kabbage's chief marketing officer, told the newspaper that "likes" say a lot:
We look at whether you get a lot of 'likes,' are you responding to customers.
Financial regulatory agencies are mulling regulation, as are privacy groups.
Privacy comes into the picture particularly given that companies that use social media to make lending decisions don't have to verify the information, given that they don't have to provide it to third parties, as do the reporting agencies Experian or Equifax.
That's why the Center for Digital Democracy, a US privacy group, is seeking regulation of the trend.
Jeffrey Chester, executive director, told the WSJ that decisions based on social media are just too opaque:
There are privacy concerns. People don't understand the implications or why they may be considered undesirable [for credit].
What do you think? Do you not mind if it means your chances of getting a loan increase because of your Facebook posts or LinkedIn recommendations, or would you rather that financial institutions keep their noses out of your social media business?
Please share your thoughts in the comments section below.
Image of piggy bank courtesy of Shutterstock.