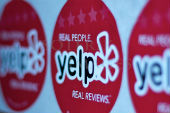 A US court in the state of Virginia ruled on 7 January that anonymous users aren't covered by First Amendment protection of free speech if a review "is based on a false statement".
Joe Hadeed, the owner of Hadeed Carpet Cleaning, which is based in Virginia, told the court that seven Yelp users had left anonymous, negative feedback about his business on the review service.
His lawyers filed against Yelp, demanding that it reveal the names of the posters.
The court agreed and ordered Yelp to comply, deeming that Hadeed had provided enough for it to conclude that the Yelp users might not actually have been customers of his business.
Hadeed had told the court that the bad reviews hadn't matched up with actual customers in his database.
Therein lies the "false statement" logic.
Judge William G. Petty of the Circuit Court for the City of Alexandria said in his majority decision that being anonymous online isn't the issue, per se; rather, it's the possibility that somebody's posing as a customer and making false, potentially libelous statements:
The anonymous speaker has the right to express himself on the Internet without the fear that his veil of anonymity will be pierced for no other reason than because another person disagrees with him.


[But] if the reviewer was never a customer of the business, then the review is not an opinion; instead the review is based on a false statement.
A dissenting judge, Senior Judge James W. Haley Jr., said in a separate opinion that Hadeed's assertions about the anonymous bad reviewers not being customers hadn't been proved and thus amounted to little more than self-serving suspicions.
The Washington Times quoted Justice Haley Jr.:
A business subject to critical commentary should not be permitted to force the disclosure of the identity of anonymous commentators simply by alleging that those commentators may not be customers because they cannot identify them in their database.
Yelp and others are decrying the decision, charging that it is a blow against both free speech and consumers' access to information about companies.
Paul Levy, one of Yelp's lawyers and an employee of the Washington, DC-based nonprofit advocacy group Public Citizen, told the news outlet that Hadeed hadn't justified the unmasking of anonymous users:
Hadeed really did nothing to justify the need for the identity of the [John Does] in this case. ... It's going to make it more difficult for the marketplace of ideas to get valuable information about companies.
Furthermore, Yelp spokesman Vince Sollitto told the Washington Times in a statement, when compared with other states, Virginia's decision is based on a lack of rigor when it comes to demanding proof before requiring that users be outed:
We are disappointed that the Virginia Court of Appeals has issued a ruling that fails to adequately protect free speech rights on the internet, and which allows businesses to seek personal details about website users — without any evidence of wrongdoing — in efforts to silence online critics. ... Other states require that plaintiffs lay out actual facts before such information is allowed to be obtained, and have adopted strong protections in order to prevent online speech from being stifled by those upset with what has been said. We continue to urge Virginia to do the same.
Freedom of speech advocates – The Washington Post, Gannett Co. Inc., the Reporters Committee for Freedom of the Press and the American Society of News Editors – have filed friend of the court briefs in support of Yelp, The Washington Times reports.
Is this court decision an attack on First Amendment rights to free speech?
Justice Petty quotes many court decisions that make it clear that defamatory speech isn't protected by the First Amendment. One such quote, from Herbert v. Lando, 441 U.S. 153, 171 (1979):
[S]preading false information in and of itself carries no First Amendment credentials.
So really, what it boils down to isn't so much that negative reviews do or do not merit First Amendment protection. They do. It's only false negative statements that do not merit protection.
The question at stake is whether this decision was based on evidence that truly substantiated the falsity of Hadeed's negative reviews – i.e., was it proved that the reviewers weren't customers, or was it just a suspicion?
Is Yelp being forced to unveil anonymous reviewers because rigorous forensics were done to determine that the reviews were false?
Or was this action taken just because of Hadeed's gut feeling?
As commenters on my coverage of a recent astroturfing sting made clear, review sites like Yelp not only serve as a platform for puff pieces from astroturfers; they also get bogus negative reviews written about businesses by competitors looking to sink them.
Hadeed may have gotten picked on by a competitor who invented fake customers with fake reviews to discredit him.
If so, then the First Amendment simply doesn't apply to the bogus customers, and Yelp should, indeed, strip off the cloak of anonymity.
But if Hadeed failed to rigorously establish that the supposed customers were in fact anti-astroturfing then I'm with the dissenting judge in this case.
If you can't identify a supposed customer in your database who's posting negative reviews, maybe that review is, indeed, cooked-up defamation. Then again, maybe you're just not that hot at keeping up your database.
Image of Yelp stickers courtesy of Yelp on Flickr.