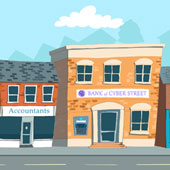 Hot on the heels of yesterday's announcement that it's launched a new £4 million campaign to help raise awareness of cyber security issues, the UK government has today urged small and medium-sized businesses (SMEs) to get more clued-up on cyber security.
It stresses that SMEs need to increase their protection online, not just for their own safety and that of their customers, but also because it could well present more business opportunities:
59% of consumers said they would be more inclined to shop online with a large brand, rather than a SME, because of concerns over cyber security
82% of consumers say they would buy more online from SMEs if these businesses were better at showing how well protected they are from cyber crime
3 out of 4 (77%) of procurement managers at large businesses say they require SMEs to prove their cyber security worth before they will be considered for selection as a supplier.
Security Minister James Brokenshire said:
Companies who have effective cyber security in place can gain an advantage over their competitors because they are trusted by their customers. If people are aware their data and details are safe they are more likely to do business with you.
The govenment quotes recent research on SME online safety which shows only:
46% regularly monitor their IT systems for breaches
48% restrict access to their IT networks
58% regularly use complex access passwords
66% regularly download the latest software updates
46% control the use of USB storage devices.
It's clear that there is work to do, which is why the government is helping to educate SMEs with its new Cyber Streetwise website, which includes lots of tools to help keep everyone safer online.
Brokenshire comments:
The 'Cyber Streetwise' website is designed to provide SMEs with impartial advice and tips about how to make some simple but effective changes to improve their online security. This in turn will enhance their reputation, improve consumer confidence and ultimately, boost sales.
Sophos is helping to support Cyber Streetwise with content and advice on the Cyber Streetwise website, as well as a range of tools and tips to help educate people on its own site.
There's even a 'Threat hunter' game to help you spot the threats that might be lying around on your desk.
And if you haven't yet done so, you can assess the security of your network here.