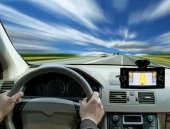 I don't know about you, but every time I open a newspaper I see an advertisement (or three) for the latest, greatest tablet, laptop or smartphone – each superior to last month's model.
Such rapid development in computing devices has its advantages of course, allowing us to work in new and more productive ways, as well as allowing for a huge amount of entertainment possibilities on the go.
But there is always a dark side. Unless you have been living under a rock, we're now all too aware of various entities taking advantage of the latest and greatest technology to get into every facet of our lives. Security agencies can intercept and read emails as well as track web surfing habits, and social networking sites know more about us than our best friends.
Fortunately, though, we can jump in our cars and drive off into the sunset without fear of being spied on. Right?
No, of course not. Many countries now have cameras on the roadside which can follow us wherever we go and now, on-board navigational systems are posing questions about driver privacy too.
Speaking at the North American International Auto Show in Detroit on Monday US Secretary of Transportation, Anthony Foxx, said that there needs to be a balance found between enhancing drivers' convenience and safety and their expectations of privacy, telling reporters:
The technology that's emerging raises questions, and we're going to be responsive to those questions.

But each technology is different, and each application of it is different, and we want to make sure that we're striking the right balance between helping folks be safe but also making sure that their expectations of privacy are also weighed carefully.
Foxx's comments come a month after a US Government Accountability Office (GAO) report highlighted how car makers and GPS manufacturers have been collecting information about drivers' whereabouts via on-board navigational aids and then storing that data for varying lengths of time.
According to the report, companies can:
...track where consumers are, which can in turn be used to steal their identity, stalk them, or monitor them without their knowledge.

In addition, location data can be used to infer other sensitive information about individuals such as their religious affiliation or political activities.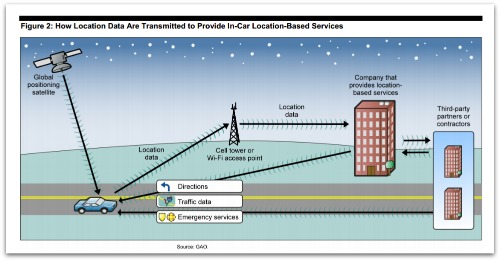 The GAO pointed out that all the companies within its report disclosed that they collect and share location data, but nine of them worded the disclosure statements in such a way as to be vague enough that consumers may have their data collected or shared in ways they were not expecting.
The report also highlighted that if motorists asked for their own travel data to be destroyed, they may be left disappointed as the companies concerned had no requirement to do so.
It also found that law enforcement agencies sometimes used information from these sources as part of crime investigation and that insurance companies could use owner-agreed black box data in order to determine blame after an accident.
In a statement Senator Al Franken, who requested the report, said that federal government needs to make it harder for web and car makers to collect drivers' location data:
Modern technology now allows drivers to get turn-by-turn directions in a matter of seconds, but our privacy laws haven't kept pace with these enormous advances.

Companies providing in-car location services are taking their customers' privacy seriously - but this report shows that Minnesotans and people across the country need much more information about how the data are being collected, what they're being used for, and how they're being shared with third parties.
Based upon its findings the GAO said that, "practices state that companies should safeguard location data, in part, by de-identifying them; that companies should not keep location data longer than needed; and that such data should be deleted after a specific amount of time."
Image of car driving courtesy of Shutterstock.