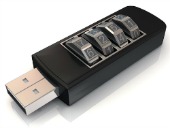 A British man already in jail for terrorist activity was given another four months for refusing to give police the password to a memory stick that they couldn't crack.
According to The Register, Judge Richard Marks QC sentenced Syed Hussain, 22, from Luton, for refusing to give up his password, contrary to section 53 of the Regulation of Investigatory Powers Act 2000 (RIPA), the UK's wiretapping law.
The encrypted memory stick had been seized from Hussain's home during an April 2012 counter-terrorism operation.
Hussain and three other men were jailed in 2012 after they admitted to discussing an attack on a local Territorial Army base headquarters.
They had planned to send a homemade bomb to their targeted site via a remote controlled toy car, but the men were arrested before the attack could be carried out.
Hussain's lawyers insisted that he couldn't remember the password to the memory stick, citing stress as the cause of his memory lapse.
He kept up the "I forgot because I'm so stressed" argument for 11 months.
During that time, police called in experts from GCHQ, the government's intelligence agency, but even they couldn't get at the stick's contents.
So police and prosecutors set a deadline: they gave Hussain until last January to cough up the password.
Then, 11 months after the deadline came and went, police told the convicted man's lawyers that they'd launched a fresh investigation: this one into alleged credit card fraud by Hussain.
That seemed to jolt Hussain's memory. Within days, he handed over the password.
It was "$ur4ht4ub4h8", which the Register reports is a play on words relating to a chapter of the Koran.
When police used the password to unlock the contents of the memory stick, they found it held information relevant to the investigation into alleged fraud, but nothing relating to terrorism or national security.
Image of USB stick courtesy of Shutterstock.