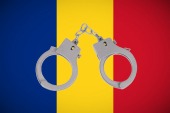 Guccifer, hacker of the stars, has reportedly been nabbed by police in Romania.
Guccifer has grabbed a slew of stuff from celebrities over his star-studded career, including ex-US President Bush's self-portrait in the bathtub, former US Secretary of State Colin Powell's Facebook account, emails that portrayed Powell as having an affair with Romanian politician Corina Cretu (which he denied), and even the script for the Downton Abbey finale.
According to a Romanian news story, a man alleged to be the hacker, Marcel Lazarus Lehel, was captured Wednesday in his village.
Much of the reporting is coming from Romanian sources, meaning we're relying on web-based translation, but The Times says that so far, we know this about the man being held:
Although little is known about Mr Lehel, it is understood he was sentenced to three years supervised release in February 2012 after being arrested ... for hacking the e-mail and Facebook accounts of various public figures in Romania.
According to the Romanian newspaper Adevarul, police tracked Lehel down to his village of Sâmbăteni, in the Păuliș commune of Arad County, where he lives with his wife and daughter and rarely leaves the house.
The raid was organized by Romania's Directorate of Investigating Organized Crime and Terrorism (DIICOT), who said that they were cooperating with US authorities.
Adevarul reports that Lehel has used the alias "Little Smoke" in the past.
The newspaper quoted the commune's mayor, Petru Nicoară, who went to the village on Wednesday morning:
Everyone describes him just as I knew him: as a quiet man who keeps to the house... I heard he spent his days at the computer.
Yes, one would imagine.
Of course, plenty of us spend our days innocently enough at our computers so we'll presume Lehel is innocent until proven guilty.
Image of Romanian flag and handcuffs courtesy of Shutterstock.