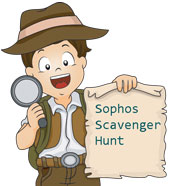 Last month Sophos released its 2014 Security Threat Report which is packed full of interesting facts and discussion around the last year of security threats.
It also offers an insight into what SophosLabs expects to see in the next 12 months.
So, like last year, we thought we'd run a quick scavenger hunt where we'll ask you three questions and you'll need to find the answers – all are hidden within the Sophos Security Threat Report 2014.
You might learn some interesting stuff too. What's better than that on a Friday?
We'll send one of our coveted Naked Security T-shirts to 20 people who answer all three questions correctly.
Good luck!
Image of hunter courtesy of Shutterstock.