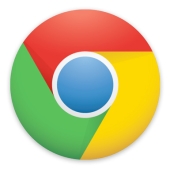 Browser hijacking – the stealthy takeover of our browser settings when we get tricked into installing and running malicious software – is the No. 1 Google Chrome user complaint, the company says.
This, in spite of Google having added a "reset browser settings" button in October.
To make sure that everybody who needs that reset button can get at it, Google announced on Friday that it's tweaked Chrome so as to put the warning and the reset right in front of users' faces.
Now, Windows users will automatically receive a warning when software surreptitiously changes their browser settings.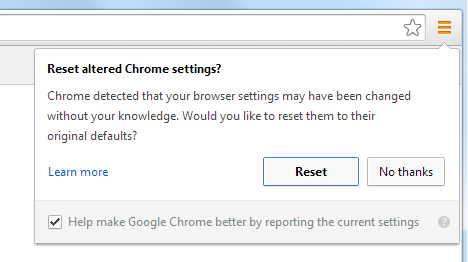 Windows users will also get a prompt offering to restore their settings back to the factory-fresh default.
Typically, browser hijacking results in some type of click-fraud scheme that profits whoever kidnapped our browsers by, for example, changing our homepages or injecting ads into the sites we browse, according to Linus Upson, Google's vice president of engineering.
The problem's still growing at "an alarming rate," he wrote on Friday. Chrome users are loading things they really want, such as a free screensaver or game, or, ironically, security software, only to find out later that a malicious program piggybacked its way into the browser settings.
Commenters on Ars Technica's coverage noted that it would be nice were the reset button to roll settings back to the previous version rather than to the default.
Beyond that, Upson noted that the reset will knock out any installed extensions, apps and themes.
To reactivate any of your extensions after the reset, you can find and re-enable them by looking in the Chrome menu under "More tools > Extensions", he advised.
Apps, on the other hand, are automatically re-enabled the next time you use them, he said.
Upson warned that some of the hijackers' tricks can be sticky, so you might have to do a bit more work than just hit reset:
Some hijackers are especially pernicious and have left behind processes that are meant to undermine user control of settings, so you may find that you're hijacked again after a short period of time. If that happens you can find additional help uninstalling such programs in the Chrome help forum - and remember even if you don't see the prompt, you can always restore Chrome to a fresh state by clicking the reset button in your Chrome settings.
Chrome users suffering with hijacked settings should consult Google's detailed help page about Chrome settings taken over by an unwanted program.
To guard against malicious software getting anywhere near your Chrome settings in the fist place be vigilant when downloading and installing software from the web and keep your anti-virus software up to date (Sophos offers free anti-virus software for Macs, as well as for Android. No registration is required. We don't even ask for an email address).