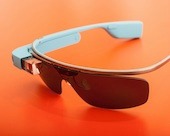 The New York City Police Department is beta-testing the ultimate creepy stalker toy, according to news reports.
One "ranking New York City law enforcement official" told Venture Beat that the NYPD is interested in seeing what use Glass might be in investigations, particularly when worn by police on patrol:
We signed up, got a few pairs of the Google glasses, and we're trying them out, seeing if they have any value in investigations, mostly for patrol purposes.
Just by looking at suspects, police could instantly check out their arrest records, mugshots and other key information, a source told the New York Post:
It would be like the Terminator. You walk past somebody and you get his pedigree info if he's wanted for a warrant right on your eye screen.

You can identify the bad guys immediately within seconds.
Police picking up Google Glass is absolutely non-surprising. US police forces are mad for surveillance gizmos.
As it is, police in San Jose, California, recently put forth a proposal that would let citizens voluntarily sign up to make it easy for police to use their security camera footage.
Other big cities, such as Philadelphia and Chicago, along with small towns such as Los Gatos and Monte Sereno in California, have recently launched similar initiatives to set up databases of citizens who are willing to submit surveillance video.
In fact, the NYPD's interest in Glass is in keeping with the trend for US cities to increasingly gobble up data on residents using surveillance technology such as gunshot-detection sensors, license plate readers, data-mining of social media posts for criminal activity, tracking of toll payments when drivers use electronic passes, and even at least one police purchase of a drone in Texas.
A Google spokesman told Venture Beat that the NYPD probably got the glasses through the company's Glass Explorer program, given that Google isn't working with law enforcement agencies on the project.
Interested people can apply through Glass Explorer to get the glasses early in the design stage and, if Google gives them the go-ahead, can buy them for $1,500.
The spokesman said that the program is open to applications from any US adult:
The Google Glass Explorer program includes people from all walks of life, including doctors, firefighters and parents. Anyone can sign up to become a Glass Explorer, provided he or she is a US resident and over the age of 18.
The privacy aspects of police conducting surveillance with Glass are, of course, of deep concern.
Writing for Slashdot, Nick Kolakowski noted that such surveillance could violate the Wiretap Act and the Fourth Amendment's protection against unreasonable search.
Kolakowski referred to a letter sent to Slashdot by Hanni M. Fakhoury, a staff attorney for the Electronic Frontier Foundation, the last time the issue of law enforcement and Google Glass came up:
If the officer is recording a communication he has in public with someone, there's probably no wiretap problem since there's at least the consent of one party and no expectation of privacy... But if he's recording peripheral communications between two separate individuals, then there's potential wiretap liability, depending on the circumstances.
As American Civil Liberties Union (ACLU) Senior Policy Analyst Jay Stanley said in a post last year, the NSA's "collect it all" approach to surveillance data is permeating US police forces.
That means, for example, license plate scanning being done on everybody who drives by, Stanley said – not just on cars wanted by the police.
Here's the choice that such technologies now present to us, Stanley suggests:
We now have technologies that enable the creation of very detailed data on our activities. Those technologies are only going to get more powerful and more pervasive. We need to make a choice as a society about the extent to which we want to allow the government to store up that data so that it has the power to hit "rewind" on everybody's lives.
That's "just too much power" as far as the ACLU and other civil liberties groups are concerned.
What do you think? Should we trust police to respect our privacy in spite of ever-more-pervasive means to record everything?
Please share your thoughts in the comments section below.
Image of Google Glass courtesy of Flickr / Guiseppe Costantino.